Six Foot Shredded Foam Sack
Features
Able to seat two to three adults comfortably, as well as a whole group of children, the 6 foot oval foam sack is the loveseat redefined! When placed vertically, it also mimics the feel of a recliner, giving you two cozy furniture pieces in one! Perfect for the living room, entertainment room or basement, the 6 foot oval foam sack will gladly replace more traditional seating if you want it to. Additionally, our suede covers strike the perfect balance of having enough give to mold to your shape without stretching out over time.
Size:
72" length x 48" width x 24" height
Capacity:
2 to 3 adults or 3 to 4 children
Includes:
Foam, zippered inner black twill liner, zippered suede cover
Details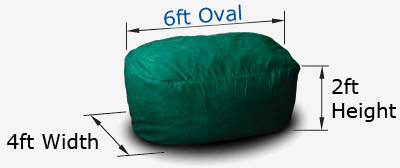 Resources
Notes
Manufacturing Tolerances
Products may carry a size tolerance depending on the style and job. Please see our Tolerance Table.

Actual Fabric Colors
Colors above may differ from actual fabric colors due to differences in your monitor's (screen's) setup.
Reviews
Christine R | November 17th, 2022
We fell in love with the our friend's Love Sac which is similar to this but the price tag is ridiculous. We ordered the 6 ft foam sac with charcoal colored cover. It came and we love it. Foam is firmer than the Love Sac but very comfy. We lay on it and watch movies and my son likes to snuggle our dog on it. Very good item for the price!