Features
This foam-stuffed chair is a cozy one-seater, suitable for any child or adult. Its compact size makes it perfect for people who refuse to sacrifice comfort for space. Filled with our shredded conventional foam, it is excellent for use in bedrooms, dorm rooms, gaming rooms or play areas. Additionally, our suede covers strike the perfect balance of having enough give to mold to your shape without stretching out over time.
Size: 36" diameter x 24" height
Capacity: 1 adult or 1 child
Includes: Foam, zippered inner black twill liner, zippered suede cover
Details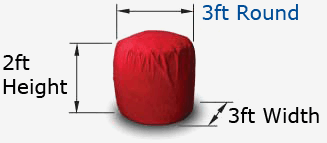 Resources
Notes
Manufacturing Tolerances
Products may carry a size tolerance depending on the style and job. Please see our Tolerance Table.

Actual Fabric Colors
Colors above may differ from actual fabric colors due to differences in your monitor's (screen's) setup.
Reviews