1-1/2" Acoustic Eggcrate Foam - Charcoal - 72"x80"
$34.99
Features
For a more economical solution to soundproofing, eggcrate foam performs well at a lower price than wedge foam tiles. With our 1 1/2-inch charcoal eggcrate foam, get a solution that offers superior performance at an affordable price. The style of eggcrate foam keeps the price down, yet it still performs well for someone needing soundproofing on a budget. It is especially practical for people planning to cover their deadening foam with acoustical cloth.
We offer this 1 1/2-inch eggcrate foam in a standard size of 72" x 80" which is a great solution for a range of applications and projects. Every product we offer is made with the highest standards to ensure longevity and quality you can count on for whatever the need. The color makes it especially appealing because it will hide dirt or stains while offering a great appearance that is pleasing to the eye. If you have any questions regarding this or any of the foam products we offer, please Contact Us for assistance.
Standard Size: 72" x 80"
Details
Acoustical Performance Data
Overall NRC: 0.45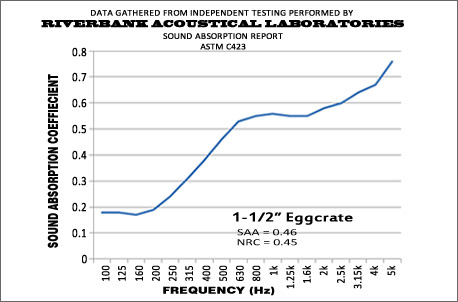 To view the full PDF report of our acoustical test results, see the resources section (below).
Flammability Test Results
Classification: Class A
Flame Spread Index: 25
Smoke Developed Index: 250
Resources
Notes
Manufacturing Tolerances
Products may carry a size tolerance depending on the style and job. Please see our Tolerance Table.

Standard Sheet Sizes/Quality
Standard sheets of foam are cut slightly larger than the listed size to compensate for shrinkage during packaging, transit, and delivery. Sheets may contain rough edges. Any yellowing/discoloration present is a byproduct of exposure to light during production and manufacturing and does not represent a flaw, damage, or defect in the material.
Reviews
Matthew | June 28th, 2023
This was nicer material than I was expecting. Its really soft and cuts well, the actual size for my 'full size' sheets was about 77'' x 83''. Its considerably nicer than the existing foam I was salvaging from my last project. I specifically bought full size sheets of the 1.5'' 'acoustic' eggshell charcoal foam.
Dennis Smith | June 21st, 2023
Excellent. Not one single complaint. I will definitely be shopping with Foam Factory again.
Jacob | April 18th, 2022
Ordered a total of 5 pieces and they all came in a nice vacuum sealed bag nicely packaged. Let them fluff out for a couple days and they were literally perfect. Nice and thick, very very few tiny defects if any at all on most pieces, and easy to resize with a sharp razor. Best way to cover entire walls with acoustic foam 10/10 would recommend. Only thing is to make sure you have a proper method of hanging them as they are heavier then the overpriced 1'x1' panels on Amazon. I used a combination of a staple gun along the top and heavy duty spray tack/glue for most of the rest. When using spray tack first coat the wall and back of foam and let dry then apply second coat as you're hanging it up since it doesn't have a lot of grip on the first coat but second coat seems to stick very well
Tara | May 26th, 2019
Used it on a boat engine cushion lid to reduce sound coming from motor.