Latex Wedge - 15"x15"x6"
$24.99
Features
The goal of achieving comfort is easy with our latex wedge pillow to comfort and support you. A supportive and versatile form, our all-purpose latex wedge provides long-term support in a variety of applications. Whether used as a seat cushion, or as targeted support for your back, legs, or shoulders, this wedge is durable and provides comfort. With a medium-firm feel, the latex wedge pillow has the perfect blend of supportive softness which makes it a must-have item for your comfort needs. Made with a durable and long-lasting foam, this solution is the perfect mix of firm enough to provide support and soft enough to be cushioning instead of overly hard to the point of being uncomfortable. These wedges are a great solution for travel as well since they are lightweight and easy to take with you. The cover is a soft and stylish suede cover which makes these pillows pleasing to the eye to avoid any embarrassment. Choose from several colors to get the right one for your preferences and personality. Regardless of which color is right for you, rest assured that this is a purchase that will give you the relief you need in a style you want! Add one to your life today and experience a new level of comfort.
We are always happy to assist you in any way while shopping with us. Please Contact Us with any questions today.
Standard Size: 15" x 15" x 6"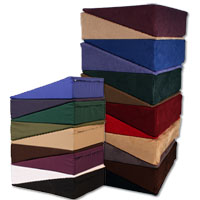 Resources
Notes
Manufacturing Tolerances
Products may carry a size tolerance depending on the style and job. Please see our Tolerance Table.

Actual Fabric Colors
Colors above may differ from actual fabric colors due to differences in your monitor's (screen's) setup.
Reviews
Dee | July 15th, 2022
I bought this for my sister. She LOVES it & says it's the best pillow she's ever had. It helps to with silent reflux, GERD/acid reflux as well as helping you to sleep on your back. Another awesome latex product for this great company.
Mary | April 19th, 2022
I frequently get acid reflux at night. This pillow has helped a lot. Just takes some to get used to. Very well made.
Marie C Dandois | January 7th, 2020
Wedge pillow Xmas. gift for grandson Changed color after order, Foam Factory straightened it out before mailing it.
Kelly | December 7th, 2019
I purchased this to help me sleep on my back, and it really helps with that. It's a firm enough to hold my legs in an elevated position, but soft enough to be comfortable.