1-1/2" Acoustic Eggcrate Foam - Colors - 48"x72" - 2-Pack
AE1-5
$62.99

1-1/2" Acoustic Eggcrate Foam - Colors - 48"x72" - 2-Pack
AE1-5
Features
For a more economical solution to soundproofing, eggcrate foam performs well at a lower price than wedge foam tiles. The style of eggcrate foam keeps the price down, yet it still performs well for someone needing soundproofing on a budget. It is especially practical for people planning to cover their deadening foam with acoustical cloth.
Standard Size: 48" x 72"
Details
Acoustical Performance Data
Overall NRC: 0.45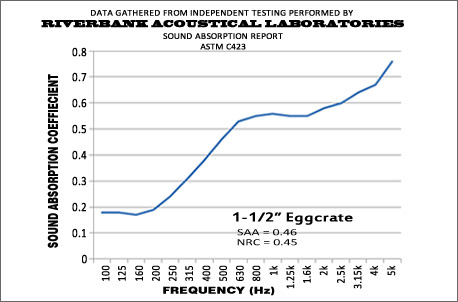 To view the full PDF report of our acoustical test results, see the resources section (below).
Flammability Test Results
Classification: Class A
Flame Spread Index: 25
Smoke Developed Index: 250
Resources