1-1/2" Acoustic Eggcrate Foam - Colors - 48"x72" - 2-Pack
AE1-5
$62.99

1-1/2" Acoustic Eggcrate Foam - Colors - 48"x72" - 2-Pack
AE1-5
Features
The use of foam for soundproofing needs is a smart solution because it is effective and cost friendly. With our colored eggcrate foam, you get a reliable solution while staying on budget. A favorite for a few reasons, eggcrate foam performs well at a lower price than wedge foam tiles. The style of eggcrate foam keeps the price down, yet it still performs well for someone needing soundproofing without spending a small fortune. It is especially practical for people planning to cover their deadening foam with acoustical cloth for added soundproofing power.

We offer several options when shopping for colored eggcrate foam to ensure you get exactly what your location needs. When shopping for colored foam, you need options in terms of the color. We offer a wide range of colors to help you get the one best suited to your location and decor needs. Whether you need purple, red, orange, blue, or teal, we have you covered with all the best colors! Offering a standard size of 48" x 72" in your choice of 13 different colors, this solution is a smart way to soundproof in style. Order today and get the reliable foam solution your location needs at an affordable price.

If you have any questions while shopping with us, please reach out to our friendly staff. Our knowledgeable team is always happy to help in any way.


Standard Size: 48" x 72"
Details
Acoustical Performance Data
Overall NRC: 0.45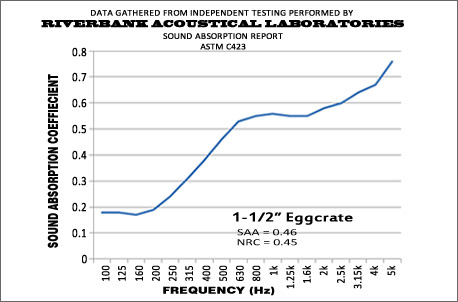 To view the full PDF report of our acoustical test results, see the resources section (below).
Flammability Test Results
Classification: Class A
Flame Spread Index: 25
Smoke Developed Index: 250
Resources