Solid Memory Foam Pet Bed - Twill Cover
Features
Give your pet the comfort and support they need with our solid memory foam pet bed with twill cover!
You love your pet. They are more than just an animal to you. As an important part of the family, they deserve a comfortable place to sleep that is all their own. With our solid memory foam pet bed with twill cover, give them a place to rest that is made specifically with their needs in mind. Rather than a shredded fill, this type of bed is one piece of memory foam. This type of foam is superior for comfort and support because it molds to the body which provides support to key pressure points while cushioning. This type of bed is great for older pets dealing with aches and pains or pets recovering from an injury. The twill cover is easy to care for and offers a surface that is both soft yet sturdy enough to pet friendly. Choose from several colors and sizes to get the best fit for your home decor and pet size. Add one of these beds to your home today!
Height: Approximately 2 inches
Twill pet beds include:

Non-removable white accord liner
100 percent polypropylene
Zippered twill cover
100 percent cotton, machine washable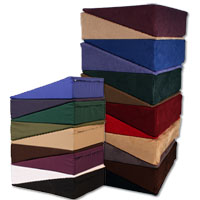 Resources
Notes
Manufacturing Tolerances
Products may carry a size tolerance depending on the style and job. Please see our Tolerance Table.

Actual Fabric Colors
Colors above may differ from actual fabric colors due to differences in your monitor's (screen's) setup.
Reviews
Patricia Collins | July 1st, 2022
I ordered the 16"x22" Solid Memory Foam mattress with Twill cover for Charlie Mayhem's crate. He had emergency back surgery and will be crated 6-8 weeks during recovery. This mattress is so comfortable and exactly fits his crate. Thank you for making a wonderful product right here in the USA.
TL | June 14th, 2022
Solid Memory Foam Pet Bed - Twill Cover 26"x40" (RECTANGLE) & Solid Memory Foam Pet Bed - Twill Cover 22"x34" (RECTANGLE) Khaki Twill Zippered Cover White Accord Liner Arrived Early, Both ordered are in perfect condition, size & the twill cover is a excellent covering for shedding pets. Hair comes off very easy. And most important both Pups love them. Thanks Foam Factory, Inc for making a superior product!
LM | April 28th, 2022
I have two of these beds for my two large dogs and these beds are terrific. Dogs love them. Really high quality at a reasonable cost. I have both the Twill and ultra-suede version of these beds--I think the ultra-suede is a little tougher. (I have one dog who wants to dig in his beds.) But we like both.
Mary | January 8th, 2020
I was trying to find a new mattress for my soft sided dog crate as the old one had lost all padding after just a year. Although I loved the tough fabric it was no longer supportive. It was difficult to locate a business that had a variety of products. Their telephone customer service answered all my questions without a fuss. The product came securely wrapped and popped open to its size without an issue. The twill fabric is durable, the 2 inch memory foam is heavy but that was what I had expected. It fits perfectly in the kennel. And my dog loves it...my dog is not a digger so I can't attest to the twill durability but for me it is great. Will be purchasing another for a smaller kennel. I love buying American made products from small businesses even if the cost might be a bit more than other options.
Katie | June 7th, 2019
We have two large dogs (~65lbs each) that love these beds. Both will lay in their kennel when we get home after being in it all day with the bed inside. The twill cover is durable and the color looks great. We ordered one and loved it so much we ordered 3 more to keep in both kennels and in the bedroom upstairs. Can't recommend enough!