Fiberfill Travel Pillow - 18"x9"x3-1/2"
$19.99
Features
The fiberfill travel pillow is designed for use while traveling, whether by air, rail or automobile. Its resilient, yet compactible filling allows it to be easily fit into suitcases or bags for travelers with limited space.
The fiberfill travel pillow envelops your neck in comfort, while keeping your head supported. This helps in preventing pressure points and the stability keeps the user from waking up with that all-too-familiar travel stiffness. Let the fiberfill travel pillow help you catch up on your sleep while on the road, keeping you refreshed and energized.
Standard Size: 18" x 9" x 3-1/2"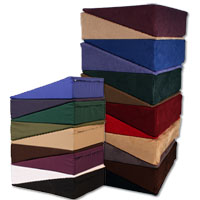 Details
Flexible, resilient and durable

Supports the head for rest while seated

Compactible, which saves precious luggage space

Removable suede cover with zipper included

The cover is 100% pure micro-polyester fiber
Notes
Manufacturing Tolerances
Products may carry a size tolerance depending on the style and job. Please see our Tolerance Table.

Actual Fabric Colors
Colors above may differ from actual fabric colors due to differences in your monitor's (screen's) setup.
Reviews