Features
These bass traps work in rooms of any size. Low frequency waves are long and difficult to stop, but corner bass absorbers solve the bass problems that collect in the corners of rooms. The eight pack contains an absorber for each corner of a four-sided room, though smaller packs are also available. For rooms with severe bass issues and multiple walls, we suggest absorbers in every corner. They work great as general sound absorbers and in conjunction with other products.
Details
Acoustical Performance Data
Overall NRC: 1.20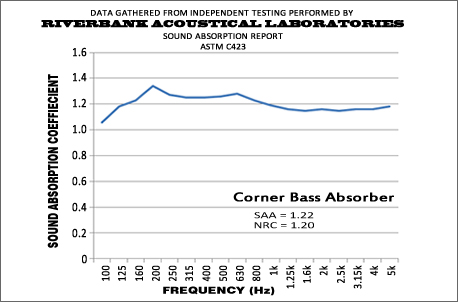 To view the full PDF report of our acoustical test results, see the resources section (below).
Flammability Test Results
Classification: Class A
Flame Spread Index: 25
Smoke Developed Index: 250
Resources
Notes
Manufacturing Tolerances
Products may carry a size tolerance depending on the style and job. Please see our Tolerance Table.

Color Availability
Size and quantity selections will affect color option availability.
Reviews
Jason | January 31st, 2023
Short version: Foam By Mail nails the price to performance ratio with their acoustic foam products. I had Auralex in my studio already and these perform just as well for a MUCH better price. Skip Amazon knock offs, skip Auralex, order here. Long Version: I am a semi-serious sound engineer/producer who has put roughly $15k into converting my one car garage into a double walled home studio. I record LOUD rock, punk, hardcore, and metal musicians. The majority of my acoustic treatment are the higher end dense fiberglass panels. However those require wood frames (heavy) and there are somethings that those are just too awkward to work for (metal doors, vaulted ceiling corners, tight squeezes under desks, etc.) No secret that foam doesn't perform as high as rigid insulation panels, BUT if you try to buy "big brand acoustic foam" (you know who) it costs just as much as doing top of the line panels. Alternatively, if you try to buy cheap stuff on Amazon, you get NO PERFORMANCE. Foam by Mail nails the price point and performance ratio beating out both big name foam and cheap knock off foam. I'll be doing another order soon to finish up some of the harder to reach untreated corners. TIP: If you think you may want to reposition foam, or you live in a rental and can't glue to walls, glue it to thin plastic sheets and then use command strips to put it on the wall. Works great!
Dan | October 11th, 2022
The acoustic foam products are an excellent bargain, they are a fraction of the cost of a lot of the mainstream big name products out there. And from what I hear I see no reason at all to spend a dime more on acoustic treatments. Nice work Foam Factory
JEFF | July 14th, 2022
What a difference! If you are doing audio, you need these... Timely shipping and great quality. A friend recommended these and they have made a huge difference.
Jeff Stewart | June 10th, 2022
Hands down the best bass traps I have used.
Greg Matson | July 10th, 2020
I just purchased a set of these bass traps for my studio, and so far so good. Made a big difference with bass control. The quality seems excellent, and the companies customer service is terrific. Highly recommended!
Joe Drzewiecki | September 18th, 2019
I've had many corner bass traps. These are as good as any and far less expensive. Especially if you're trying to outfit a studio or control room on a budget, these fine folks are aces! Try them, you'll love the experience and the products!