Body Pillow Shredded Foam - Twill Cover
Features
There are plenty of ways to get a good night's sleep. With our shredded foam body pillow, experience true comfort and relief for a rejuvenating sleep that leaves you refreshed in the morning. For use while sleeping or relaxing in bed, these body pillows are the definition of comfort and support. Body pillows are full-length forms that provide flexible comfort for people who want a boost that won't get lost in blankets or slide away during the night. A favorite of side-sleepers, body pillows provide leg, knee and hip support to the lower body with a soft, huggable form for the upper body. Stuffed with soft and fluffy shredded conventional foam in two different sizes, these body pillows are available in eight colors of 100 percent cotton twill. The cover is durable yet comfortable making it an ideal choice. The shredded foam is made without any sharp edges to ensure a comfortable, safe solution for your sleep needs. With our twill cover shredded foam body pillow, you get a reliable sleep solution that is cushioning and soft yet supportive when you need it. Best of all, this option is easy to care for with the optional removable twill cover. Add this great solution to your next night of rest and relaxation!
If you have any questions about this product, please Contact Us for assistance. Our staff is happy to help as needed.
Cover Options
Included: Non-removable twill cover
100 percent cotton
Optional: Zippered twill cover*
100 percent cotton, machine washable
NOTE: When an additional zippered twill cover is purchased, the inner liner will be white accord.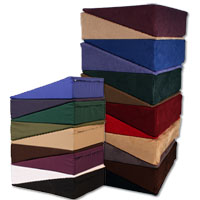 Resources
Notes
Manufacturing Tolerances
Products may carry a size tolerance depending on the style and job. Please see our Tolerance Table.

Actual Fabric Colors
Colors above may differ from actual fabric colors due to differences in your monitor's (screen's) setup.
Reviews
Ellen Garrett | July 7th, 2022
The best body pillow on the market. Stuffed better than any I've tried, & since I'm a side sleeper, I had the best sleep I've had in a long time, thanks to this body-pillow.