Body Pillow Shredded Foam - Suede Cover
Features
For use while sleeping or relaxing in bed, these body pillows are the definition of comfort AND support. Body pillows are full-length forms that provide flexible comfort for people who want a boost that won't get lost in blankets or slide away during the night. A favorite of side-sleepers, body pillows provide leg, knee and hip support to the lower body with a soft, huggable form for the upper body. Stuffed with soft and fluffy shredded conventional foam in two different sizes, these body pillows are available in twelve colors of 100 percent microfiber suede.
Body pillows suede cover include:
Non-removable white accord liner
100 percent polypropylene
Zippered suede cover
100 percent pure micro polyester fiber
Machine washable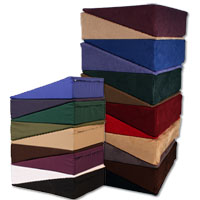 Resources
Notes
Manufacturing Tolerances
Products may carry a size tolerance depending on the style and job. Please see our Tolerance Table.

Actual Fabric Colors
Colors above may differ from actual fabric colors due to differences in your monitor's (screen's) setup.
Reviews
Ellen Garrett | July 15th, 2022
Best body pillow I've found. I got the larger one & glad I did. It conforms to my body the way I place it & doesn't collapse. I'm a side sleeper & it supports leg & arm. Only the best of anything at foam factory. I buy everything I need in foam here & I've never been disappointed.
Inna R Ford | March 21st, 2022
The body pillow is great. shredded foam provides excellent support and does not collapse. Only issue is the pillow case, would have preferred plain cotton or linen.