Features
Treat your pet to a wonderfully soft and cozy bed!
Just like with people, memory foam molds to the contours of your pet, supporting them while providing pressure-less comfort, allowing your pet to sleep better and relax more comfortably. These beds are filled with shredded memory foam, providing a blend of pressure-relieving comfort and support. The shredded memory foam also moves within the cover for extra cradling of your pet's contours.
Recommendation: Memory foam beds are highly recommended for pets that are older, have medical issues like hip dysplasia or arthritis or are recovering after surgery.
Twill pet beds include:

Non-removable white accord liner
100 percent polypropylene
Zippered twill cover
100 percent cotton, machine washable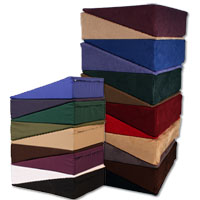 Resources
Notes
Manufacturing Tolerances
Products may carry a size tolerance depending on the style and job. Please see our Tolerance Table.

Actual Fabric Colors
Colors above may differ from actual fabric colors due to differences in your monitor's (screen's) setup.
Reviews