Shredded Memory Foam Pet Bed - Suede Cover
PETSHM_ROUNDSUEDE

Shredded Memory Foam Pet Bed - Suede Cover
PETSHM_ROUNDSUEDE
Features
Treat your pet to a wonderfully soft and cozy bed!
Just like with people, memory foam molds to the contours of your pet, supporting them while providing pressure-less comfort, allowing your pet to sleep better and relax more comfortably. These beds are filled with shredded memory foam, providing a blend of pressure-relieving comfort and support. The shredded memory foam also moves within the cover for extra cradling of your pet's contours.
Recommendation:
Memory foam beds are highly recommended for pets that are older, have medical issues like hip dysplasia or arthritis or are recovering after surgery.
Suede pet beds include:
Non-removable white accord cover
100 percent cotton
Zippered suede cover
100 percent pure micro polyester fiber
Machine washable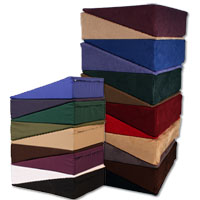 Resources