Eggcrate Foam Pet Bed - Suede Cover
Features
Treat your pet to a wonderfully soft and cozy bed!
Our eggcrate foam pet beds help alleviate pressure by providing a soft, comforting material. The cut of eggcrate also makes it more breathable, helping them stay cool, and is also a more economical option due to our cutting process.
Suede pet beds include:
Non-removable white accord cover
100 percent cotton
Zippered suede cover
100 percent pure micro polyester fiber
Machine washable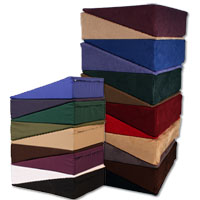 Resources
Notes
Manufacturing Tolerances
Products may carry a size tolerance depending on the style and job. Please see our Tolerance Table.

Actual Fabric Colors
Colors above may differ from actual fabric colors due to differences in your monitor's (screen's) setup.
Reviews
Linda | March 4th, 2020
I was looking for a nice crate bed, I was looking at all the pet store and catalogs outhere. They all wher expensive and rather flimsy, when I found this website I was ecstatic. This pet bed is by fare superior to any other pet bed I looked at. Also the price is way better then anywhere else. I will be purchasing again very soon.