Body Pillow Shredded Foam - Twill Cover
BP_TWILL

Body Pillow Shredded Foam - Twill Cover
BP_TWILL
Features
For use while sleeping or relaxing in bed, these body pillows are the definition of comfort AND support. Body pillows are full-length forms that provide flexible comfort for people who want a boost that won't get lost in blankets or slide away during the night. A favorite of side-sleepers, body pillows provide leg, knee and hip support to the lower body with a soft, huggable form for the upper body. Stuffed with soft and fluffy shredded conventional foam in two different sizes, these body pillows are available in nine colors of 100 percent cotton twill and 12 colors of 100 percent microfiber suede.
Cover Options
Included:
Non-removable twill cover
100 percent cotton
Optional:
Zippered twill cover*
100 percent cotton, machine washable
NOTE: When an additional zippered twill cover is purchased, the inner liner will be white accord.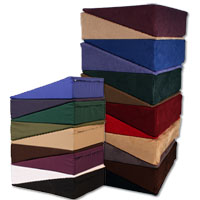 Resources