If your goal is to turn your bedroom into dream-land, you'll be hard-pressed to find a better place to help you accomplish your goals than Foam Factory, Inc., with their line of latex, memory, and poly foam mattresses, toppers, and pillows. But in addition to the things that go on the bed, many people are surprised to learn Foam Factory also builds headboards, giving you the ability to customize your bedroom furniture from head to toe.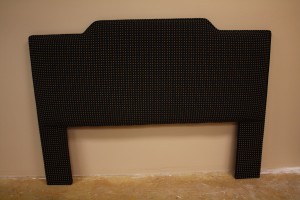 Headboards serve many purposes, from protecting the walls of a room to providing something to lean against when reading or sitting up in bed, but the one thing that remains constant about a headboard is that it will become the focus of the bedroom. With the bed typically being the largest piece of furniture in the bedroom, adding a headboard simply ties the room together; the cherry on top of a sundae or the crown atop the king's head.
For people looking to invest in an upholstered headboard, Foam Factory has been making soft, elegant headboards since they opened for business more than 30 years ago. With a selection of pre-designed headboard ideas and thousands of covering fabrics available, a headboard from Foam Factory can be customized to your home and style, rather than forced into a setting for the sake of utility. Customers can even bring in designs and covering material to have their own custom fabric headboards built.
Headboards are built on a ½ inch wood base with a ¾ inch frame around it, giving them strength and stability. From that foundation, Foam Factory's extremely cushioning super soft foam is layered on and covered with polyester fiberfill batting sheets, to give a full, fluffy appearance that's soft to the touch. In addition to a plain, padded headboard, many other styles are available as well. One of the most popular is banding, where a semi-circle of foam is added around the edge of the headboard and upholstered over for a little extra style, while still being soft and luxurious, top to bottom. On banded headboards, the fabric can be upholstered over smoothly, or gathered in ruffles for a more traditional appearance. Welting around the headboard is also an option for adding extra textures, style, or color accents, and tufting and buttoning is yet another choice for tailoring some classic styling into your one-of-a-kind headboard.
If you're furnishing your home, or just looking for that last thing your bedroom is missing, it's never a bad idea to look into getting a headboard, whether it's for aesthetics, function, or to just protect your walls from damage. Quite often, people who never felt that they needed headboards for beds are surprised at the change it makes in a room.
For more information on headboards from Foam Factory, or to discuss design possibilities for your own, give us a call or send us an e-mail through our Contact Us page and we'll be glad to create a one-of-a-kind piece of furniture just for you!