When a company notices a need among their customer base, the easy thing to do is address it. After all, if it will bring paying customers, why wouldn't you? The harder thing to do is to address that need in a way that sends a customer home happy, pleased with his or her product, and bound to return again.
Imagine a heat wave gripping your city in the dead of summer. Would you be more inclined to remain the patron of a company that doubles the price of their box fans because they know people need them immediately? Or the company that puts their fans on sale in the middle of the heat wave, earning customer loyalty? (And probably moving more fans to boot!)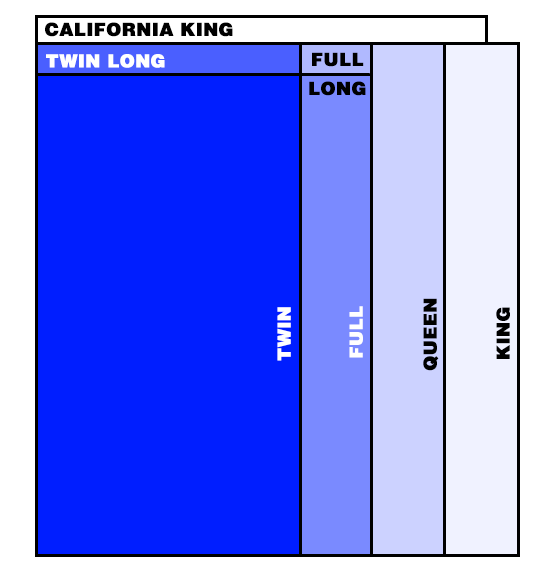 Now, Foam Factory, Inc. doesn't dabble in fans, but where they are an industry leader is the foam mattress field. Noticing that customers were requesting Twin Long and Full Long mattresses sizes more frequently, they decided to turn the previously custom-cut sizes into standard products. This not only means that these products will be shipped more quickly since they aren't being cut to order, they are now also more affordable to order than they previously were as a custom size!
For years, Foam Factory has offered customers the ability to create mattresses in virtually any size they wanted. This feature is great for antique bed frames, custom-built beds, and other scenarios where a standard size doesn't quite fit. What Foam Factory started to notice, however, was the growing popularity of Twin Long and Full Long mattresses. For years, they had been in what could be considered customer purgatory. Enough people wanted them that they were known by name and had an established size, but the demand was not quite enough for them to become one of the common mattresses sizes most people are familiar with: Twin, Full, Queen, and King. But with the extra 5″ in length that Long versions add to Twin and Full mattresses, these sizes are particularly popular in dormitories and for growing teens.
Noticing that the demand for these sizes was steadily increasing, the decision was made to introduce them as standard offerings for conventional foam mattresses, joining the four classic sizes, as well as the extra-long California King mattress Foam Factory carries standard as well.
With seven standard sizes now offered across six foam types, there are plenty of options to choose from. Each of these sizes is offered in whole inch thicknesses from 1″ to 6″, helping customers build a hybrid bed that creates a custom feel from multiple layers of foam that a single material would be unable to achieve. But going even further, Foam Factory is also offering 1/2″ thicknesses in their Poly foam, Lux High Quality, and Lux Regular, giving customers even more options!
You can even see the savings for yourself, by entering in the now-standard Twin Long and Full Long dimensions into the custom-cut mattress calculator and comparing the price to the standard-size product pages.
At the end of the day, Foam Factory is committed to offering their customers the best quality products at an excellent value, and the addition of Twin Long and Full Long to their conventional mattress line is just one great example.