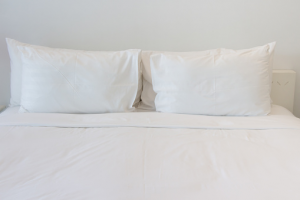 Is your mattress starting to feel a little worse for wear? Is it sagging in the middle, losing some of its support capability, or just not as comfortable as it was a few years ago? If so, replacing the mattress with a brand-new one should be the first option to consider. This is possible even on a limited budget, especially when you shop at FoamByMail.com. We have all the materials you need to make a DIY foam mattress comparable to expensive Leesa and Casper mattresses for less than $350. If that's still too much for your budget, try one or more of the following tips to improve your current mattress.
Buy a memory foam or latex mattress topper
Buying a mattress topper is a cheap yet effective way to add many extra years of support and comfort to your bed at a fraction of the cost of a full mattress. Memory foam mattress toppers offer contoured support for your body, and are available in 3 lb., 4 lb., and 5 lb. densities. Latex mattress toppers provide the best all-over support without that "sinking" feeling, are aerated to dissipate body heat, and offer exceptional durability. Both types of foam mattress toppers can be cut to fit any size mattress.
Buy foam support pillows
If your mattress is still in fairly good condition but suffers from a few trouble spots, some strategically placed foam support pillows may be all you need to rest comfortably once again. Contoured head and neck pillows promote spine alignment and help relieve tension through your neck and shoulders. Latex body wedges can be used to support the back or legs, while whole body pillows are ideal for side sleepers who desire extra knee, hip, and leg support.
Flip the mattress or put it on the floor
Many innerspring mattresses can be flipped over, giving you a fresher, less saggy surface to sleep on for another year or two. If you have a memory foam mattress or other kind of single-sided mattress, you can try rotating it 180 degrees on the bed frame or simply putting it on the floor to get the extra support you long for.
Upgrade your sheets
Bedsheets might not have anything to do with support, but they contribute a lot to comfort. Soft, high thread count sheets made of a breathable fabric (like 100% cotton) feel amazing on your skin and make you look forward to getting into bed every night.