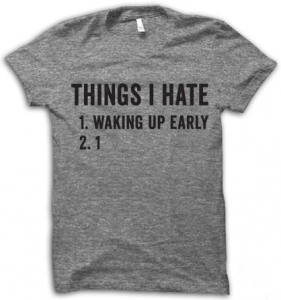 Waking up on time is a struggle that many people face every morning. Failing to rise from bed can be caused by a variety of issues. Going to bed too late or dealing with the effects of a sleep disorder can be reasons that you struggle getting out of bed each day. In fact, a person might have trouble waking up just because they are too comfortable and can't bear the thought of leaving their cozy mattress behind. Regardless of the particular issues behind your inability (or resistance) to wake up on time, here are some tips to get you out of bed without hitting the snooze button ten times.
Place Your Alarm Across the Room
This is the oldest piece of advice out there, but it's still rings true because it works! Placing your alarm clock across the room requires you to physically get up and out of bed to turn it off. This is often the biggest challenge of waking up on time.
Note: If you have a bed partner who wakes up at a different time in the morning, set a quieter alarm near the bed for a few minutes before the one across the room. The threat of waking up your partner should work as an added incentive to get you up and moving around.
Have a Fun Reason to Wake Up on Time
Few people can generate enough enthusiasm to simply wake up and get ready for work or school, so add some "me" time to your morning routine. Prepare the ingredients for a special breakfast before going to bed at night, or set the timer on your coffeemaker so your favorite caffeinated beverage is ready when you wake up.
Hold Yourself Accountable
Social accountability is a very strong motivational tool, so consider making yourself accountable to friends. This could take the form of scheduling an early morning workout with a pal or a personal trainer or tweeting a simple message to your social media followers. There are even public online groups for people who want to start waking up on time. You can join one of these groups and post your daily results for other members to help hold you to your word!
Give Yourself Time to Adjust
Good habits are not formed overnight, so give yourself time to adjust to your new morning routine. You might not feel your best in the first few days or weeks of getting up on time and you might even oversleep or hit the snooze button once in a while. Just accept those occurrences as temporary setbacks and try again the next day!