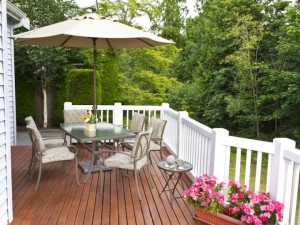 A comfortable and inviting patio, porch, or deck is the ideal spot for enjoying balmy spring temperatures with family and friends. If you're setting up your outdoor space from scratch or are revamping an older area that has been neglected for a while, here are some tips that will help you make everything perfect.
Furniture
Having the right furniture is critical to the success of your patio or deck. Not only do you need enough seating options to accommodate your guests, but those seats must also be comfortable and weatherproof. To get started, we recommend:
Sketching out a rough estimate of the placement of chairs and tables in your outdoor space.
Adding wood or stone benches to give the area more seating while using minimal square footage.
Using custom dryfast foam cushions from Foam Factory on all outdoor seating. Unlike standard foam in ordinary cushions, dryfast foam does not retain water or promote mold, mildew, and rot. Water and air easily pass through the open-cell structure of dryfast foam, which facilitates drying and extends the life of the cushion.
Cooking
Outdoor cooking is a staple of spring and summer evenings spent in the yard. Although a simple charcoal grill can get the job done, these days there are numerous alternatives at every price point. Among the top choices are:
Gas and propane grills, which are excellent if all you plan to do is prepare food.
Fire pits, which can be used as a source of warmth and light or as a means of grilling food.
Wood-fired outdoor ovens, which are often part of a full outdoor kitchen and represent the ultimate in outdoor cooking.
Accessories
Although we call these accessories, they're of the must-have variety if you want a truly wonderful outdoor experience so be sure your space offers:
Sun protection in the form of a patio umbrella, retractable awning or canopy, or decorative pergola covered with vines.
Natural bug control solutions such as Citronella candles, eucalyptus oil, or certain herb plants (garlic, rosemary, mint, etc.).
Soft lighting that illuminates a safe walkway for guests while also helping to provide the right ambience.
Sprucing up your patio or deck in time for spring will allow you to create the perfect environment for barbecuing, relaxing, and spending quality time with the people in your life. To do this you must pick the right furniture, use custom dryfast cushions, choose a great grill, and implement the rest of our suggestions as soon as you can.