Countless people have trouble sleeping at night. Tossing and turning to find a comfortable position is something that plagues Americans on a nightly basis. Sleep does not always come easily. Lack of sleep can take its toll on a person's concentration and energy levels during the day. Do not let this situation take over! Medical professionals have detailed their own personal experiences using this basic, but efficient sleeping aid that has helped many people – the body wedge.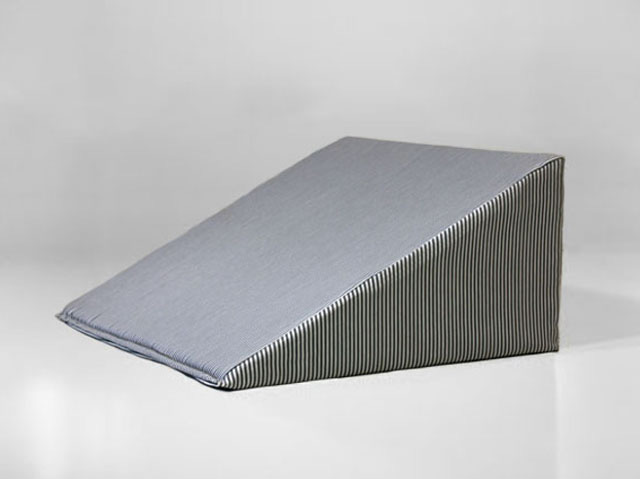 Achieve Restful Nights At Home
Our foam body wedges are available in eight angles ranging from 9.5 degrees to 37 degrees. These 24"L x 24"W wedges can provide a gentle incline, a drastic one, and many options in-between.
How Can a Body Wedge Help Me?
Foam wedges are an inexpensive way to provide lift for those who want to prop themselves up to read or watch television in bed. Wedges are also often recommended by physical therapists and doctors to elevate your legs in the case of injury! This can help immensely with circulation. The medical grade foam used in these wedges has a soft feel with a 1.5-pound density, but it is still firm enough to offer support and not collapse underneath body weight.
Not only are Foam Factory's body wedges great for giving you lift, but they can also help with your posture! This can help substantially in relieving discomfort and back pain. People have a tendency to lean forward or slouch during the day, creating stress and tension in their neck, shoulders and lower back. A foam body wedge can help prevent this from happening while you sleep and relax, as well!
Customizable Options to Match Your Decor
In order to help keep your feng-shui intact, the Foam Factory's new 100 percent cotton twill covers and 100 percent micro-fiber suede covers come in a variety of colors. For easy cleaning, these covers come with a zipper for easy removal.
No matter what is causing your discomfort in bed, Foam Factory's body wedges make it easy to improve these issues!