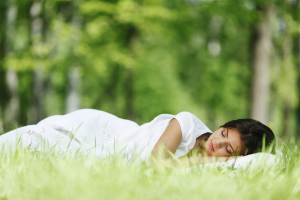 There are many compelling reasons to choose natural mattresses and bedding over products made with synthetic fibers. For one thing, natural materials do not harbor dust mites and other allergens the way synthetics do, which is good news for those with sensitive skin and sinus or asthma issues. For another thing, natural mattresses and bedding reduce your exposure to the potentially harmful chemicals and toxins typically found in synthetic fibers, which of course is better for overall health. And finally, when cultivated and harvested ethically, natural materials are more eco-friendly than synthetics.
If you've decided to make the switch from synthetic to natural mattresses and bedding, here are the products to look for.
Natural latex foam
Natural latex foam is a more hypoallergenic and more breathable alternative to ordinary memory foam, thus making it a favorite for sleepers with allergies or temperature control issues. A wide array of latex foam mattresses, mattress toppers, and pillows, including those made by Dunlop and sold at FoamByMail.com, are available at attractive prices and can provide you with the support and comfort of traditional memory foam without the use of polyurethane or toxic additives.
Organic cotton
Organic cotton refers to cotton that is grown in untreated soil without the use of pesticides. This material is comfortable and hypoallergenic, and is able to wick moisture to help regulate temperatures. Organic cotton batting and wrapping can be found in traditional mattresses, as well as a variety of bed linens and covers. Pairing organic cotton sheets and pillowcases with natural latex foam mattresses and pillows is an excellent way to promote healthy, restful sleep.
Organic wool
Organic wool is a third option for those seeking natural bedding choices. Provided the wool is untreated, it will be flame retardant and resistant to mold, mildew, and the buildup of dust mites. One potential drawback to an organic wool mattress is a tendency for the material to ball up and turn lumpy, so be prepared for a shorter product lifespan compared to natural latex foam. Organic wool blankets and bed linens do not have these same clumping issues, and would work well on latex foam or organic cotton mattresses.
Switching to natural mattresses and bedding is a sensible move for your home, your health, and the environment. Visit FoamByMail.com today to check out our complete line of Dunlop latex foam mattresses, mattress toppers, pillows, and other bedding products to help ease your transition.