Life on the road can be a grueling one, battling the elements and the clock while keeping an eye on the other motorists around you. For truck drivers, these long hours add up, and by the end of the day, a good night's sleep is top priority, not just out of necessity, but by law as well. Unfortunately, the mattresses that come standard in many trucks leave much to be desired. Or, when buying a used truck or camper, an included mattress may be something you want to replace for hygiene reasons. The issue with doing this though, is that many are made in non-standard sizes that cannot be purchased at traditional bedding stores.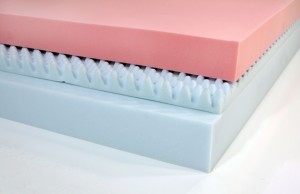 Foam Factory, Inc. realizes the importance of restful sleep for people spending hours behind the wheel, and recognizes the difficulty in finding bedding that is both the right feel and the right size. With their fully customizable mattress and topper line, getting bedding in the exact dimensions of your sleeper cabin frame has never been easier.
With a full line of conventional foam, memory foam, and latex foam products, mattresses can be tailored to specific comfort and support preferences, without making compromises to find something that fits a rig's bunk beds. As the retailer and manufacturer of their products, Foam Factory can make a custom-size mattress to meet specific dimensions in a way most mattress or big-box stores cannot.
Conventional foam products are available in soft, medium, and firm feels to suit any preference. Memory foam is available in three different densities, and latex foam features three firmness levels as well. On its own, this is a large variety of options, but it increases even further with the ability to layer different materials for a genuinely personalized sleeping experience. A base layer of firm and supportive high-density foam can be paired with cushioning, pressure-relieving memory foam. Soft conventional foam can be layered atop medium-firm conventional foam. An aerating latex can be placed on a conventional foam base. Any preference can be met through Foam Factory's customization.
Not owning your own freight truck or splitting time between trucks doesn't exempt you from achieving the best sleep possible either. For when replacing a truck's mattress doesn't make sense or isn't possible, Foam Factory also manufactures several kinds of foam mattress toppers that can be easily placed over an existing mattress, and just as easily rolled back up and moved to another location. Mattress toppers are also excellent options for people looking to save money by not purchasing a full mattress, or when an existing mattress is supportive and good quality, but requires some softness for optimal comfort. And just like the mattresses, toppers can be cut to any dimensions.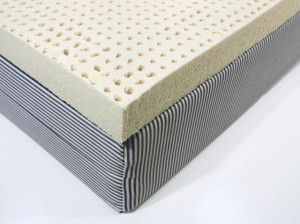 Eggcrate toppers are an alternative to solid sheet varieties, and are excellent for adding a layer of cushion to any mattress, relieving pressure. Another benefit of eggcrate is its peak-and-valley design, which creates more cooling airflow beneath a user than a solid sheet would. Mattress toppers come in multiple heights for finding the right balance of comfort and support. Memory foam toppers and latex toppers are also available.
Another unique consideration with a truck or RV bed is that they're used in environments less consistent than indoor bedding. Many truckers idle their vehicles during the night to maintain comfortable cabin temperatures, whether it means running air conditioning in the summer or heat in the winter. But for truckers traveling through regions that regulate idling, working for companies that do, or truckers who simply prefer not to keep their vehicle running through the night, the right bedding materials can help overcome the challenges of sleeping in hot or cold cabins. Memory foam mattresses are temperature sensitive, meaning the foam is warmed by the body and softens around high-pressure areas. The foam retains that body warmth, making it an excellent option for people who spend most of their time in cooler climates. Conversely, latex foam's pincore design makes for an aerated bedding material that sleeps cooler in warmer environments.
When you're behind the wheel for 10 hours, the last thing you need is a saggy, lumpy, uncomfortable bed to climb into at the end of the day. Simply put, getting the best sleep possible is a matter of safety on the roads. With with a Foam Factory custom mattress, you'll be looking forward to climbing into bed and getting the sleep you need. Be careful though, once you get yours, you may find yourself longing for the rest you get on the road while in bed at home!