The melt is on, the birds are returning, and the days are getting longer. You know what that means… spring is on its way! After the historically harsh winter of 2014, springtime is as anticipated as it has ever been, making us anxious to see the temperature begin its annual climb upward.
The change in seasons brings with it traditions we look forward to every year; spring break, flowers blooming, baseball, and more. But not everything is as eagerly anticipated as those aforementioned events, and the biggest spring tradition of all is probably everyone's least favorite: spring cleaning. Often, this is because it's desperately needed and becomes a gargantuan task. Especially after a winter where we were kept inside even more than normal, a thorough tidying of the home is important, if only for the fresh-start-feeling it provides.
Because you'll already be working your way down the to-do list, it only makes sense to roll some long-term, big-picture projects into spring cleaning as well, both for the sake of getting them out of the way, as well as giving you a fresh start to the season. One long-term project worth including in your spring chores is assessing your bedding needs and deciding if it's time to replace your mattress.
Comfort and support aside, there is a major, legitimate reason spring cleaning is a great time for a new mattress. After all, you launder your linens, and vacuum, dust, and scrub your home, trying to get it as clean, healthy, and comfortable as possible. However, an old mattress can be contributing to in-home allergies to a significant and surprising degree.
Traditional innerspring mattresses, unless they have been encased in a sealed, hypoallergenic cover, will eventually become a massive allergy-agitating slab; one you spend a third of your day in direct contact with. Why? Dust mites.
It's important to note that dust mites are in no way a reflection of an individual's personal hygiene or lifestyle. They are present in virtually every environment where people or animals are present. They are microscopic, and do not bite or directly feed on humans or animals, and in that sense, are not "dangerous" in the way you would think of a bed bug, spider, or tick.
The issue with dust mites is that they prefer warmer, relatively humid environments. With a body on an innerspring mattress, that is exactly what a bed becomes. We naturally shed about 1/5 of an ounce of skin every week1, and with their diet consisting of skin cells, among other things, suddenly that mattress looks like an all-inclusive resort to mites. Given the fabrics and open space a conventional mattress build includes, there is plenty of room to harbor mites and the dust they live on.
The problem then, since dust mites don't bite, is that their waste and remains can be irritants to people, causing what are considered allergy symptoms. Stuffiness, wheezing, coughing, dry eyes, and so on. These symptoms are so common, mattresses are often one of the last places people consider as an allergen source.
Traditional mattresses can collect years' worth of dust and mites, gradually becoming more and more irritating. This is why, even for mattresses in good physical condition, seven years is a good marker to consider replacement, simply due to what they may contain at that point in their life cycle.
With all that in mind now, doesn't it make sense to consider a new mattress as part of your floor-to-ceiling spring cleaning?
If you do decide it is time for mattress replacement, whether due to allergy and irritant concerns, or just because you've been meaning to, there are options to help ensure your next bed will last for years and minimize health impact.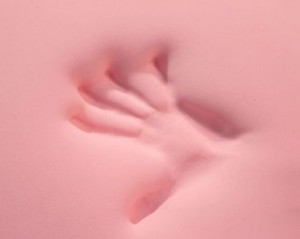 Foam bedding is one of the smartest ways to fight dust mite allergies, due to the structure of the material, and the hypoallergenic nature of some varieties. Just on a surface level, foam mattresses are solid slabs of material, meaning there is limited space for dust and mites to gain access. Additionally, foam is not a food source for mites, so there is no concern over them seeing your bed as a treat.
In addition to the benefits open-cell foam's structure provides, certain varieties are formulated to be hypoallergenic as well, helpful in combating other sources of irritation. Foam Factory's three varieties of memory foam – 3LB ViscoSAVER, 4LB ViscoPLUSH, and 5LB ViscoMAX – are all hypoallergenic bedding options, and are used to produce numerous products in addition to mattresses, such as toppers, pillows, and bolsters. What's more, Foam Factory's 100 percent all-natural Dunlop latex is hypoallergenic and anti-microbial, inhibiting the presence of mold or mildew from body moisture over time. Despite their hypoallergenic similarities, latex and memory foam are two very different materials; click the previous link for more info on the topic.
These products are all supremely comfortable and customizable to your sleeping needs, meaning you will have to make no sacrifices to eliminate irritants from your life. Additionally, hypoallergenic mattress covers have proven to be effective as well, as dust and mites are unable to gain access to your bedding.
Ultimately, spring is a time of refreshing renewal. And while you're going about your spring cleaning, there is no reason not to consider whether you need to refresh and renew your bedding – if not for your comfort, for your health.
1. [Source: http://lancaster.unl.edu/pest/resources/dustmites311.shtml]