Often, packaging minor items for shipping only requires a bit of crumpled newspaper, old packaging peanuts, or at most, leftover bubble wrap. Sending non-delicate items with these materials is an excellent way to get something from point A to point B cheaply. However, when faced with fragile goods, the packaging of a product becomes more stressful. Deciding which material for packaging is needed, finding those materials and purchasing the right amount for the job can make someone wonder if the product is even worth shipping. For these situations, Foam Factory, Inc. offers Pick and Pluck foam, a cost effective, do-it-yourself way to pack items safely and with confidence.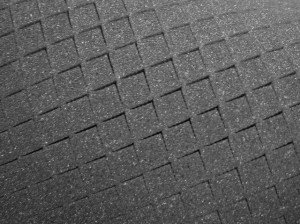 Providing the shipping security of top-quality foam packaging materials without the additional cost of custom designs and cutting, Pick and Pluck is the best of both words. These perforated sheets of open-cell foam allow the user to easily separate the ½ inch squares with their hands to form product-specific packaging or casing without the need for technical cutting services or the wait it takes the jobs to be processed. Available in standard charcoal, 12 colors of Class A rated fire retardant foam or pink Anti-Static foam, Pick and Pluck comes in enough varieties to fit any specialized need.
Pick and Pluck sheets come in thicknesses from ½ of an inch up to 3 inches tall for larger products that require packaging depth. Supportive but flexible packaging can also be easily created for irregularly shaped products, simply by layering thinner sheets of Pick and Pluck and removing sections from individual sheets for tiered support. Available to accompany the Pick and Pluck sheets are solid base layers and convoluted/eggcrate cover layers, should 360 degrees of protection be required or desired. These affordable packaging materials help take the stress out of wondering how to ship items by minimizing their movement in transit, one of the most important aspects of secure shipping.
Creating custom packaging for products with Pick and Pluck requires no tools or any sort of mechanical experience. Simply place the object to be encased on top of the foam where you want it to be located, and either by inserting pins or toothpicks along the object or by tracing it, create an outline of the shape. There are numerous ways to create your cutout from this point. Some people feel comfortable tracing the outline with a knife and some prefer pulling the die cut foam apart by hand for extra control. The single rule of Pick and Pluck foam though, is to be sure to leave slightly less room than the actual dimensions of the product. You can always remove squares for more room if the fit is too tight, but if you pluck too far out, the shape will not be held snugly and you can't replace removed squares to tighten a design.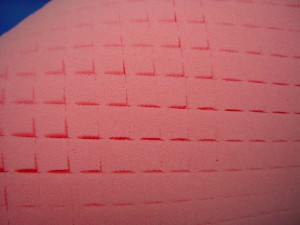 In addition to providing efficient shipping materials, Pick and Pluck can also be made to serve as economical casing for any delicates that require transportation. A camera case, firearm case, and even cases for delicate china or holiday ornaments can be stored or moved using custom Pick and Pluck foam. For sensitive electronics, Anti-Static Pick and Pluck foam dissipates electro-static charges generated from other objects in shipping, the object itself or even human handlers. Delicate circuit boards, computers and other precision electronic equipment can all be safely shipped, stored and transported using this specialty pink foam.
One popular method for transporting the most delicate or important materials is the security case. These include base, lid, and Pick and Pluck layers within a durable and lockable shell that is shock resistant and watertight. Ordering replacements for a custom case, should foam be damaged, lost or trimmed incorrectly, can prove to be costly or excessive, since many providers sell the three layers as a bundle. Given that the Pick and Pluck layer is the only one with items moving in and out of it, these are typically the only damaged or worn-out foam sections of custom cases. A Foam Factory replacement can provide just the piece you need at an excellent price, saving you money, keeping your valuables protected and extending the life of your case.
Regardless of the reason you are packaging items; business, product returns, gifts or other uses, getting a product to its destination safely is top priority. The same goes for delicate and sensitive personal-use items that travel with you, like computers, cameras and firearms. Form-fit foam padding is the best security solution for all of these applications, and with Foam Factory's Pick and Pluck foams, you can get that custom protection with a little extra elbow grease and for a lot less money than machine-cut foam inserts.