We've all had moments of brilliance when we find ourselves trying to get out from between a rock and a hard place, sifting through wacky idea after wacky idea, until we find that one gold nugget that solves the issue inventively and effectively. When that happens, it's almost harder to tell whether you enjoy the solution to your problem more, or the number of people who, upon hearing about your idea, say, "I wish I had thought of that!"
With the ability to make custom foam products with our fleet of precision, computer-programmed machinery and skilled employees with decades of foam-cutting experience, Foam Factory, Inc. has seen its share of ideas, both crazy and creative. Whether it's a prototype for a product an entrepreneur hopes to make it big with, or a new way to use a standard product around the home, our customers never cease to come up with new uses for our products, even after more than 30 years in business.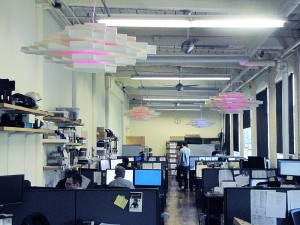 In its many forms, foam can be light and soft, strong and resilient, and shock absorbing and cushioning. The following three custom projects we've created for customers highlight some of the best qualities in foam, as well as the ingenuity, creativity, and practicality of our customers.
This first project takes some of foam's most popular properties, and matches them to something that evokes the same feelings when we see them.
When one of our customers came to us looking to add some levity to their office in the form of suspended decorations, we had just the material to make their idea into a reality. With high ceilings in a converted warehouse-style office, breaking up the space with something unobtrusive, but fun, pleasant, and creative was a priority, and foam clouds met their requirements perfectly. With their plans already intricately outlined from the start, we cut sheets of our white cross-linked polyethylene foam (XLPE) into different patterns and designs. With spaces placed between each sheet, the rigid foam forms created white, 3-D clouds that bring the airy aesthetics of the outdoors into the open office.
Another memorable project was also implemented in a workplace, but one that's about as far removed from an office environment as you can get.
While foam can be soft, fluffy, and light, some varieties stand up to much heavier-duty use. In the case of this project, about one ton of horned, bucking, heavy-duty use. As a bullfighter (also known as rodeo clowns), Frankie "Punkintown" Smith was in need of a material to pad the inside of his rodeo barrel. If you've ever seen a rodeo, either in person or on TV, you can understand the speed and power of the animals bullfighters are tasked with distracting. Often, the inside of a barrel is the only safe place in the ring for bullfighters, making the resiliency and impact absorption of its padding incredibly important. After all, while the barrel may protect the bullfighter from the bull, they still need to be protected from bouncing around inside the barrel too. Also, for the safety of the animals, foam is added to the outside of the barrels to protect the tips of their horns. We cut sheets of 2.2LB polyethylene, which has the right combination of impact absorption, strength, and give to keep him safe while he keeps others safe.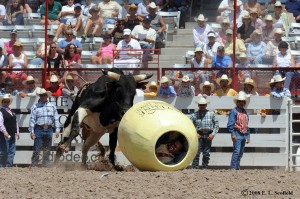 Lastly, we have one of the most inventive uses for one of our standard products, coming to us from a customer in Texas. As many of the state's residents are fond of saying, "everything is bigger in Texas," and when that comes to severe weather, hailstones are included. As balls of ice start to fall from thousands of feet in the sky, vehicles out in the open don't stand much chance against winding up looking like a hockey player's garage door.
To prevent hail damage to his truck, our customer had the idea of taking one of our closed-cell foam sheets and wrapping it around his vehicle when storms were on the way to pad against the falling hailstones. We suggested neoprene regular, due to its impact absorption, flexibility, and resilience. Draped over his car and secured in place, hopefully the next storm that rolls through town will be a little less nerve-wracking!
As you can see, foam can go much further than the mattresses and cushions we're so used to seeing. With your ingenuity, and our products and manufacturing capabilities, the possibilities for foam never end. We're just excited to hear what one of you comes up with next!
—
Foam Cloud image provided courtesy of Simbex.com.
Rodeo image taken by Eve L. Scofield. Provided courtesy of Frankie and Laurie Smith.