Dining room furniture is one of the cornerstones of a home, bringing elegance and style to one of the classic gathering places for friends and family. These sets can be brand-new investments or family heirlooms, passed down through generations. One commonality between most dining room sets however, is the rigidity of the seats. Often, these intricately crafted chairs take a minimalist approach to the actual seating surface, leaving it uncovered and hard. The style and sentimentality this furniture provides keeps it around, no matter how uncomfortable it may be. But with Foam Factory, Inc.'s custom dining chair cushions, you can add personalized comfort to any chair in the home, without having to permanently attach the cushion to the seat.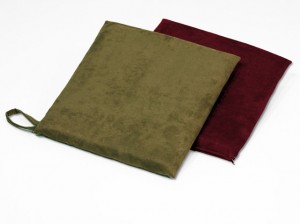 While dining room furniture is often singled-out as being uncomfortable, there are plenty of surfaces in and out of the home that could use a little extra comfort. Foam Factory's selection of materials, fabrics and customization options means seat cushions for chairs in practically any size, style or design can be created, turning the seat everyone avoids into the one everyone fights over.
Removable cushions are an excellent way to make your furniture enjoyable, whether it was once comfortable and no longer is or if it has been unpleasant since the day you got it. These cushions can be placed on any seat for immediate comfort and relief, without having to modify or alter furniture by adding permanent upholstery. When not in use, the soft cushion can be moved to a different seat or simply stored away.
Foam Factory manufactures custom chair cushions in six standard foam varieties, from incredibly soft foam for cushioning the hardest surfaces to firm foam for taking the edge off of a hard seat without sacrificing stability or support. Beyond the standard selection, Foam Factory will use any foam in their inventory to create a seat pad if it's what you want, even if it isn't traditionally cushion material. Typically ranging from 1 to 3 inches tall, these cushions can be tailored to give you the perfect blend of height, support and comfort. Utilizing a fleet of machines that feature both computer and human controlled systems, Foam Factory's manufacturing capabilities allow them to produce any 2-D shape for a cushion, perfect for irregular or one-of-a-kind seating. Edges can also be beveled or pinched together for smooth contours and round cushions can be created as well.
Because every home is different, Foam Factory has a selection of approximately 10,000 different fabric patterns that can be used to cover a cushion. For material itself, they offer 100 percent micro-fiber suede, 100 percent cotton twill, polyester/cotton blends and even vinyl options. Fabric isn't the only customization option for the appearance of the cushion either. For a traditional tufted appearance, buttons can be sewn through the cushion foam in any pattern desired to give the billowing fullness seen in timeless pieces. For a contemporary look, cushions can be cut squarely and wrapped tightly for crisp lines and edges, creating a sleek, modern style. And for a practical, goes-with-anything cushion, fiberfill wrap can be applied to the foam for an extra layer of comfort and a full appearance. Even the finishing on these cushions includes a multitude of options. Covers can be left open ended, zippers can be added with protective welting, and even hand-sewn closing seams are offered. Welting can also be added to the top and bottom edges of cushions for a box style or around pinched seams for wrap style.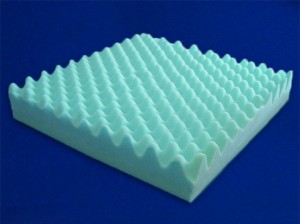 One of the few drawbacks of a removable chair cushion is that they can slide or be knocked off in normal use of the furniture. For people concerned with this, Foam Factory has introduced yet another customization option. If desired, two finished strands of matching fabric strips will be added to each of the cushion's back corners. These can be tied around the rails or splats of the chair at its seat base, keeping the cushion in place. If the seat cushion needs to be removed, they only need to be untied. Quantities aren't limited to the four, six or eight seats usually included in dining room or kitchen sets either. Even an entire event hall for hundreds of people can have cushions made to soften hard folding chairs or old benches.
Foam Factory doesn't restrict their custom cushions to just chairs. Benches, stools, daybeds and church pews can all have new, removable cushions created and covered for an update in style or an improvement in comfort. Even outdoor seat pads can be made using Dryfast foam that permits water to easily pass through and dry quickly. These can be covered in breathable outdoor fabrics like Sunbrella that will not rot or mold. Outdoor cushions can be made for patio chairs, benches, and even for full-length, chaise longue seating. These can be created in individual pieces or seating and backing areas can be combined in a single, continuous piece, with sections separated by a seam in the covering fabric. For furniture that has non-removable cushions in need of replacement, Foam Factory will also manufacture foam inserts for personalized comfort that can be inserted by a third party. This can be done for seat backs and arm and leg rests as well.
Adding a cushion to a chair is a smart way to improve comfort without having to spend the money to replace uncomfortable furniture or fully upholster a set to keep the style you enjoy. Instead of silently suffering with furniture sets that look great but feel terrible, get some custom cushions from Foam Factory and the only discomfort you'll have is wondering why you didn't do it sooner.