As another chilly winter embraces the nation, clothing layers add up until they near double digits. Blankets are heaped atop beds at night until it's difficult to roll over under them. Heat bills go sky high, mimicking a thermometer in the mid-summer heat we miss so much. Keeping warm is a big deal.
But while we humans are able to do nearly anything we want to get and stay toasty, it can be a different story for our pets. While their fur does make them less sensitive to chillier temperatures than us, especially with undercoats that thicken for winter, it's not a foregone conclusion that your pet is comfy as you bundle up head-to-toe in fleece and blankets. Even if it's a situation where you feel fine as-is, but a nice blanket would make watching your favorite movie that much cozier, there's a good chance your pets wouldn't mind getting a little extra warmth on the coldest days too. And with sunlight at a premium between winter weather and short days, those warming sun rays pets love to bask in are few and far between.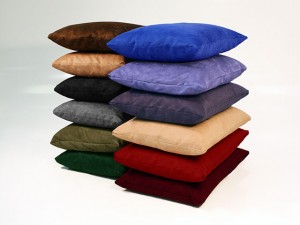 Blankets, a favorite of most humans, obviously aren't that practical for pets, since animals can't actively cover themselves, and nobody wants to tuck Toto in over and over, every time he fidgets or re-situates. Rather, it's what you can put under your pet, not over them, that might make the biggest change in their warmth and comfort. Fluffly, stuffed pet beds can make a huge difference.
The first reason these products can make such a difference is the simple insulating effect they provide. Heat rises, meaning the ground is going to be the coolest part of the room, save for homes with heated flooring – a result of one too many frigid treks to the bathroom or kitchen in bare feet. Needless to say, the chilliest part of the room is the lowest part of the room come winter. Drafts can also be an issue. Unfortunately for most pets, they don't have many other options, since people often (understandably) prefer to keep them off furniture and their own beds. That is, unless your pet gets its very own bed to enjoy! Most commonly filled with polyester fiber batting, solid foam sheets, or even shredded foam, these beds get pets off the cold, hard floor and onto something soft, plush, and comfy.
In addition to getting your pet off the ground, the filling material in these beds offers a degree of insulation as well, helping to retain your pet's body heat, keeping them warmer. Foam, more than other comfort materials, is "warmer" because of its insulation ability, making it a big benefit during the coldest seasons. Memory foam particularly helps in this regard, due to its visco-elastic properties. The material needs body heat to soften, and in that process, more of the body is in contact with the contoured, pre-warmed foam. This adds up to better comfort, circulation, and lastly, warmth! Memory foam is offered in two styles for pet beds as well: solid foam for more support, or shredded foam for a fluffier, softer feel. Either way, your pet will enjoy the temperature-sensitive custom-contouring the material possesses.
In addition to the comfort and warmth pet beds provide, there can also be a health benefit as well.
For pets suffering from arthritis, hip dysplasia, or the stiffness that comes with age, cold, hard floors can be tough on joints. A little softness and warmth can help animals stay a bit more limber, and a full, fluffy pet bed can provide just that! Again, memory foam's special contouring ability also supplies a special benefit, in that with reduced pressure, circulation is maintained or improved, a vital health issue. Better pressure-management also means less stirring to get comfortable, so just like people, pets can get a deeper, longer, more undisturbed sleep, giving them more energy during the day!
Whether it's for helping to minimize health issues, or simply because you'll do anything just to make your pets happy, there's no bad reason to give your pets the gift of a soft, warm bed they'll know is all their own!