While the enjoyment of outdoor swimming pools and beaches is restricted to the summer months, one way people manage to relax and unwind in the water year-round is in their hot tub or spa. For physical therapy and medical uses, entertaining, or simply just relaxing, hot tubs are used from starry summer nights through the coldest days of winter. One of the most important components of four-season enjoyment of a hot tub is the cover. Despite the fact that it's the only part that isn't in use at the same time people are using the tub, covers take the beating of sun, rain, heat, and cold the other 99 percent of the time it isn't in use. That, in addition to its insulating performance to keep water warm and save energy, means covers need to be in top shape to keep the rest of the setup running well.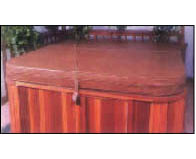 At Foam Factory, Inc., they have the materials and manufacturing capabilities to produce hot tub cover inserts, so you can get the most enjoyment out of your product.
Polystyrene, also known as expanded polystyrene or EPS, is an industry standard for hot tub covers because of its insulating capabilities and its resistance to moisture. Its closed-cell structure will not allow the growth of mold, mildew, or bacteria, which can rot a cover and cause it to prematurely fail. Any material without these traits simply cannot be used as a hot tub cover because of the constant exposure to moisture, condensation and humidity. Polystyrene R-Value, a measure of thermal insulation, is also high.
Another trait of polystyrene that impacts its functionality as a hot tub cover is its density. All polystyrene foam is not identical, as there are different densities of the material that allow users to tailor the foam to their needs and budget. Foam Factory stocks 2LB density specifically for hot tub and spa covers. Many companies offer covers made in 1LB density, but with the foam consisting of less performance material, they struggle to provide the insulation and vapor barrier hot tubs need to run most efficiently.The 2LB pound density is suggested because it performs well without the minimal boost and extra cost the 3LB foam offers.
Foam Factory's hot tub covers are sold in 96″ x 48″ sheet sizes, which feature a taper to help water and debris runoff. This angles down from a high point of 3.5″, down to 2″. With these pieces, you can trim them down to size at home for the perfect replacement insert for your tub.
A damaged, old, or cheap hot tub spa cover can increase the energy cost of maintaining water temperature, as well as allow insects, dirt, and other debris to enter into the tub. If you're looking to replace an existing hot tub topper or are getting your first one, Foam Factory will have both you and your tub covered.
Note: Hot tub covers are currently pick-up only at our Macomb, Michigan location.