It's finally time for that first year of college to start! You have all your posters, movies, music, and furniture unloaded into your new dorm room. You have everything set up just the way you want it, and you are ready for a short nap before joining the first-week activities. You lay down on the provided dorm mattress, but something is not right. There are lumps everywhere! You do your best to fall and stay asleep, but when you wake up, you are sore from the mattress. Something needs to be done; otherwise, it will be a long, sleepless year! There is no better way to make a dormitory mattress comfortable than with the always popular foam mattress topper!
What Makes Dorm Beds So Awful?
Dormitory mattresses are notorious for being terrible to sleep on. If it's not one issue, it's another. Since dorm mattresses are meant to appease as many people as possible, they are not customized for personal tastes, and complaints are common:
Too Firm
Too Soft
Covered in Dust and Allergens
Never the Right Temperature
Dampness Causes Mildew and Mold
Could Be Treated with Chemicals to Make the Mattress Fireproof
Although schools try to make dorms as accommodating as possible, they do need to cut costs. Unfortunately, the mattress is often the victim of these cuts.
The Solution to Achieving a Good Night's Sleep
There are ways to make a dorm mattress feel exactly like you are sleeping on your mattress at home! One of the most popular ways is by purchasing a foam topper! Foam by Mail actually has a large variety of foam mattress toppers to choose from, and they all come in the standard dorm mattress size, Twin Long (39" x 80"). What are some of these options, and what can they offer?
Memory Foam Toppers
The most popular options among college students are Memory Foam Toppers. With the constantly increasing availability of memory foam toppers, they have quickly become the go-to for making dorm room mattresses more comfortable than ever.
How will memory foam help? Dormitory mattresses tend to be firm, thin, and sometimes lumpy. Memory foam toppers offer a soft, thick, flatter option to achieve maximum comfort. This will also help you avoid back pain and sore spots that dorm mattresses can cause. Here at Foam by Mail, we offer three different densities of memory foam, depending on how you want your mattress to feel. If you are looking for a budget friendly option, you can choose our 3lb ViscoSAVER. This will offer cushion to make your nights tolerable. If you are looking for the plushest feeling mattress, we offer our 5lb ViscoMAX topper. This will offer maximum memory and softness to cradle you right to sleep. If you cannot decide between the two, then our mid-grade 4lb ViscoPLUSH will be perfect for you!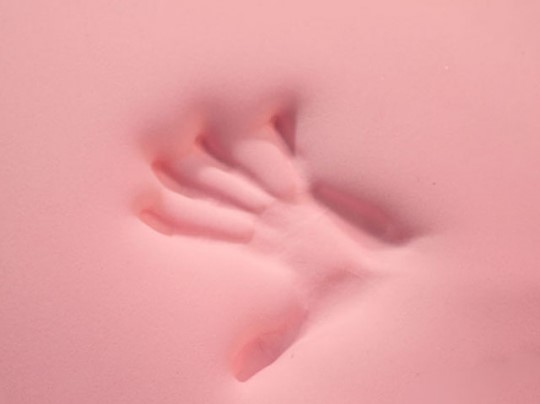 Convoluted Foam Toppers
Although there are many reasons to buy a memory foam mattress topper, memory foam is not everyone's preference. Another possibility is our Eggcrate Foam Topper. These are made out of conventional foam instead of memory foam, so for those who do not care as much for memory foam, eggcrate is a great alternative! The convoluted design allows for a great combination of comfort and support, as well as some added airflow for anyone who sleeps a bit warmer. These toppers range from soft to firm so you can easily customize your mattress to your tastes!
Latex Topper
If you are looking for the ultimate in comfort, and are not a fan of memory foam, then Latex may be your best option. Latex offers similar support to memory foam, but without retaining its "memory" shape. Latex also tends to dissipate heat and body moisture because of its aerated structure. Another benefit of a latex topper on a dorm mattress is that it is both hypoallergenic and anti-microbial to protect against any unwanted mold or other germs that can generate in a humid dorm room.
Why Is a Topper Important?
Mattress toppers in a dormitory have become a necessity for most people! For students living in dorms, it is essential that they get the sleep they need. Without the proper rest, health decreases and grades are affected. To avoid many sleepless nights, it is imperative to get a mattress topper that fits your tastes and lets you fall and stay asleep every night.
For all your mattress needs, Foam Factory is here to offer the best quality products for the job!