In business today, it often feels like companies have somebody in the back, constantly crunching numbers to figure out the minimum they can offer customers while still keeping their business. With that kind of atmosphere, it's easy to stand out among the crowd by doing the simplest possible thing: giving customers more for their money.
With Foam Factory, Inc.'s forthcoming transition of many of their comfort and support products to higher-grade Medical Foam, that's exactly what they plan to do.
Many of Foam Factory's comfort products, like sleeping pillows and body bolsters, are offered in two foam varieties: memory foam and conventional Poly Foam. Some people prefer conventional foam over the unique feel of memory foam for pillows, while others simply enjoy the savings a conventional foam pillow offers over a memory foam pillow of the same size.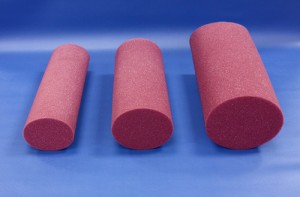 While the Poly Foam option has served Foam Factory's customers well for years, they recently realized that between their buying power and recently expanded warehousing capability, they would be able to upgrade their Poly Foam pillows to a higher-quality foam. And while there's nothing unusual about a product transitioning to a new material, there certainly is something unusual regarding the way Foam Factory plans to do it. Despite manufacturing many formerly-Poly Foam products with higher-quality Medical Foam, the new Medical Foam products will remain at the same affordable price as the Poly Foam cushions before them!
It would be easy to view this change with skepticism, as it is rare for an improved experience to be offered at the previous price-point. But in the case of this Medical Foam transition, there are multiple, objective figures that illustrate the superiority of Medical Foam over the material it is replacing.
Firstly, Medical Foam carries a greater density at 1.5LB, compared to Poly Foam's 1.3LB density. 0.2LB may not seem like much, but when the spectrum between fair-quality foam and high-quality foam runs around 1LB to 2.8LB, that's a meaningful increase. More density means greater durability and a longer life, as there is more performance foam versus air in the Medical Foam. Medical Foam carries a 35ILD, compared to Poly Foam's 36ILD. While this isn't a noticeable change, it offers the same comfort and support that is important in products that cradle the head and other extremities. For more on density and ILD, take a look at our previous post: Examining Foam's Density, Weight, and Firmness Characteristics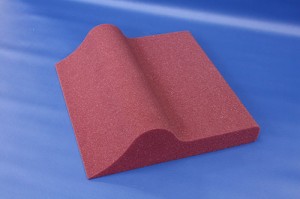 There are two other less-technical, but just-as-important factors that separate Medical Foam and make it a worthy upgrade. Formulated with anti-microbial additives, Medical Foam is a good choice in applications where bodies are in direct contact with a cushion, especially for extended periods of time, like while sleeping. Simply put, it makes for a more hygienic product as it is less prone to fostering irritants and allergens. Lastly, is Medical Foam's burgundy color. Lighter-colored foam has a tendency to yellow over time, and while this doesn't impact its performance or quality, it can be unsightly. Being in contact with body oils, lotions, and creams can hasten this process. With its burgundy color, Medical Foam is more resistant to discoloration over time, as are all darker foam colors. It may not have any benefit in terms of performance, but in terms of aesthetics, it is a big bonus.
For customers who still desire Poly Foam pillows, Foam Factory will continue to sell those varieties as long as the current stock remains. At that point, the products will fully transition to Medical Foam!
Products transitioning to a Medical Foam option in the near future include:
– Contour Sleeping Pillow (Style CS23)
– Neck Pillow (Style CS24)
– Teardrop Pillow (Style CS25)
– Ear Pillow
– Oval Bolsters (Three Sizes)
(The Neck Pillow, Teardrop Pillow, Ear Pillow, and Oval Bolsters are all still available in 5LB memory foam as well, while the Contour Sleeping Pillow will still be available in both 5LB and 3LB memory foam.)