While numerous, foam's applications are often thought of in a functional sense; a utility material that gets the job done. Whether it's deadening a room's sound, softening a firm mattress or keeping delicates safe in packaging, foam is a go-to material for many things. But at the end of the day, foam doesn't necessarily have to be left at the job site. It is also a wonderful product for arts and crafts at home with the family, at school in classrooms or even for group activities at parties, camps or workshops.
Foam Factory, Inc. makes many varieties of foam available and one of the most versatile for arts and crafts is colorful and durable closed-cell cross-linked polyethylene (XLPE). Available in five vivid colors; red, blue, green, yellow and purple, it also comes in black and white. Sheets of XLPE can be cut as thin as 1/4 of an inch or as thick as desired, making it a practical material for many projects.
One of the simplest uses for foam in arts and crafts is painting and stamping. When dipped in paint and imprinted on canvas or paper, open-cell foams like poly or super soft can leave bubbly-looking patterns, for just playing around or for painters after a unique style. It can also be used as a brush for broad stroke patterns and blending areas together. When cut into special foam shapes like stars, animals or symbols, open-cell foam is also a fun stamp for children or other kid crafts. For a crisper appearance, stamps can also be made of closed-cell foam. Because of the material's consistency, closed-cell foam is excellent for creating custom stamps at home as well. Simply place the material on a safe cutting surface and using scissors or a utility knife, carve out a design and adhere it to a base for your own personalized stamp. XLPE and neoprene work best for these projects because of their flexibility and fine cellular structures that help keep cuts clean.
Another craft that has grown in popularity in recent years is card making, and foam can play multiple roles in creating these meaningful projects. As previously stated, open and closed-cell foam can be used for painting or stamping to create one-of-a-kind designs on a card. Foam can also be used to add another dimension to homemade cards, literally. For raised designs or images on cards, simply adhering thin sections of foam, like 1/8 inch polyethylene foam roll, to the back of the cutout can boost the profile of the card and make it stand out. Using foam also means that the card can be squeezed while in the mail but retain its spring when opened, while paper or cardboard boosters are flattened immediately.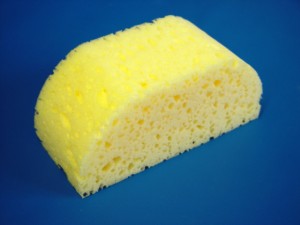 Interior decorating and labeling projects are another area craft foam is perfect for. Again, with the consistency and resiliency of closed-cell foam, intricate designs, lettering and numbers can be made, making for endless design capabilities. Projects like scrapbook covers, picture frames and door hangers can all be decorated by or made of foam. These are especially fun projects around the holidays to add a little seasonal flair to the household. Using waterjet cutting or their die cutter, Foam Factory can produce letters or numbers as small as a half inch tall or as large as can fit on a sheet of foam. With no minimum order, these can be manufactured in quantities small enough for your own collection or large enough to outfit an entire crafting workshop. Adding these letters to door hangers is a great way to let children individualize their bedrooms or welcome guests to your home for an event or holiday. Foam letters can also be an excellent teaching tool. With a simple felt sheet and a little Velcro adhered to the back of the a foam number or letter, children can practice spelling and learn new words in an interactive way. Just hang the sheet against a board or wall and letters can be stuck to the felt to spell words or practice arithmetic.
Another way foam can be used is in masks. XLPE is flexible enough to bend around a face comfortably, but strong enough to not tear where the headband is attached. These can be as simple as masquerade masks or cover the entire face for more involved projects. Foam masks can be a fun and affordable do-it-yourself project for Halloween, a great activity during parties or an interactive family activity for whenever. Foam Factory has gone even further than masks for Halloween, providing full sheets of open-cell poly foam to customers making larger-than-life costumes. By carefully trimming and gluing, one customer was able to produce a full-sized Gumby cartoon character costume from soft open-cell foam, covering himself head-to-toe.
These are just a few potential ways foam can be used in arts and crafts, with imagination being the only true boundary. So, when your next great idea for a project or activity strikes, let Foam Factory help you find the right materials to make it a success.