When looking for a comfort product that increases your quality of life – one that relieves discomfort, reduces pressure, and provides resilient support – foam is one of the few products that meets all the requirements. And with unparallelled versatility, foam can be customized in size and shape to fit the needs of a user. One style of this product, synonymous with customized comfort and relief, is eggcrate or convoluted foam. Foam Factory, Inc. offers this relief-providing cushion in almost every open-cell foam variety they stock, with customization options that allow you to tailor its benefits to your life.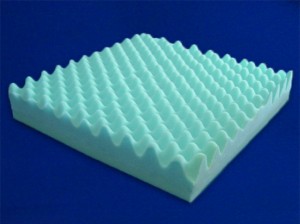 With its peak-and-valley appearance and widespread usage as both a packaging and comfort material, eggcrate foam is one of the most iconic materials in the industry. However, for as many people who know what it is, very few know why it is such a useful and practical material. Not a novelty design for the sake of recognition, those peaks and valleys are what make the product so effective, both in terms of cost and performance.
The unique design is created by passing a standard sheet of foam through a convoluting machine, where the material is compressed by a studded roller that alternates pressure levels on the foam as a blade passes through. Cutting through alternating zones of compression creates the eggcrate pattern, as the peaks are a result of more foam compressed under the blade, while the valleys were under less pressure. This process also results in two sheets of eggcrate foam for every pass of the blade, making eggcrate foam incredibly efficient to manufacture.
While cost-effective, the eggcrate design also touts its own set of comfort benefits. If you need a soft cushion or pressure relieving material, eggcrate will get the job done. Even when cut from the same type of foam, an eggcrate cushion will be softer than a solid sheet by virtue of its reduced mass. With less foam in direct contact with the body, you sink into the material until you reach the foundation of the foam. Essentially, the eggcrate pattern acts as a comfort layer, with the foam's solid base offering support. That pressure-relieving ability translates to fantastic custom mattress toppers, seat pads, wheelchair cushions, and even pet beds.
As mentioned, mattress toppers have become one of the most popular uses for eggcrate foam, and with a Foam Factory topper, there is the additional benefit of a full range of customization options at your disposal. Since eggcrate is a result of a manufacturing process and not a specific foam material, any non-bonded open-cell foam can be manufactured into eggcrate, including specialty materials, filter foam, and Dryfast foam. In addition to the selection of material type, toppers can be cut to any bed size or trimmed to one-of-a-kind dimensions specified by the customer. This range of options makes a Foam Factory eggcrate mattress pad excellent for everyday comfort at home, cushioning on the road for truck drivers, or a great camping pad product as well.
Seat cushions are another classic use for eggcrate foam, since pressure is often the biggest reason for discomfort while seated. When a seat doesn't offer enough softness, pressure points collect where body weight is targeted. This reduces circulation, which can cause issues from your legs falling asleep, all the way to serious sores for individuals who sit in wheelchairs for extended periods of time. Adding an eggcrate cushion to a seat can provide softness that reduces or eliminates uncomfortable pressure points, improving circulation and comfort.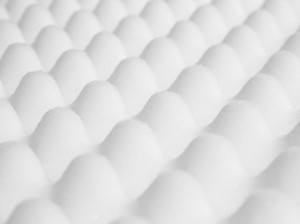 Like their mattress toppers, Foam Factory offers a broad selection of pad and cushion products to keep you comfortable. Because of the weight comfort foam cushions must beat, Foam Factory uses their firm Lux foam to bear the load. In addition to standard Lux cushions, custom orders can also be placed with special dimensions, and even the ability to combine a base foam with a different eggcrate foam layer on top. Covers are available as well, from a non-removable gray and white striped cover, to zippered micro-fiber suede and twill in multiple colors, and even terrycloth.
Humans aren't the only ones who can benefit from the comfort and coziness of eggcrate foam either. In addition to their comfort and support product lines, Foam Factory offers many pet products, one of which being an eggcrate foam pet bed. The benefits of foam cushioning can be applied to animals as well, and these beds can help relieve pressure and soften hard surfaces. Available in a range of sizes, there's a bed perfect for your pet, no matter their size. And like the seating cushions, pet beds also come with covering options, with non-removable gray and white striped covers, or zippered micro-fiber suede and twill covers in a variety of colors to match your home.
No matter what part of your life needs a boost in comfort, eggcrate foam cushioning from Foam Factory can help make things better.