When you hear the word "pillow," the mind usually races to the one your head rests on every night. This is the most important pillow in your life, since you spend about 1/3 of your day using it. What can often go overlooked without a second thought however, are the numerous other pillows in our homes and lives that we interact with daily. From the extra pillows on your bed and throw pillows on your couch to decorative pillows and body support pillows, we rely on the comfort and cushion these forms provide throughout the day. Over time though, even the highest quality pillows can lose their resilience and support. When that happens, Foam Factory, Inc. is there with a variety of foam filling materials to give your pillows a lift.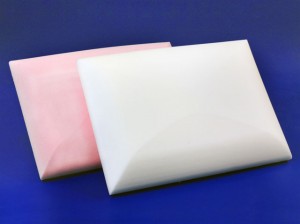 While not used with the frequency of bedding pillows, throw pillows and decorative pillows are two types of pillows likely to lose their resilience prematurely. Even though a throw pillow may only receive as much use in a week as your sleeping pillow does in a night, there are a couple reasons their cushion stuffing doesn't hold up. One is that sleeping pillows are designed for long-term, constant use. While some people use their throw pillows for comfort, others may only be using them for decoration, a factor that could potentially play a role in the quality and quantity of fill. The other reason they tend to lose their shape is the amount of weight a pillow has to support. Your sleeping pillow only supports your head and neck, while a throw pillow may be sat on, leaned on, or used to prop up the body, receiving far more weight and pressure.
Foam Factory's pillow stuffing options are all high quality materials that can provide the long-term comfort and support you need, no matter what the pillow is used for. With their selection of foam products, you can make your pillows feel better than the day you bought them.
The materials Foam Factory offers run the gamut from the plushest, most cushioning super soft foam, to high-quality, very firm foam, all for filling pillows to the specifications of any type of user. Foam inserts can be cut in solid sections to any dimension to fill a case for those who want the most consistent feel from a pillow. With their fleet of machinery, Foam Factory is able to produce detailed pillow inserts, customized to your pillow's cover and your preferences. Full, 360 degree contouring is possible from Foam Factory, with the ability to taper ends and snugly fill covers for a degree of customization rarely seen. In addition to their standard polyurethane foam, Foam Factory also offers memory foam pillows in three different densities for temperature-sensitive comfort that will contour to your body.
For some, solid pillows may not be as desirable, such as for a decorative pillow. Or, it may not even be practical, such as for filling an oversized body pillow. In instances where pillows need to be incredibly soft, fluffy and cushioning, Foam Factory manufactures shredded foam in a range of open-cell types.
Sold in bag sizes of 8, 15 and 30 pounds and bulk orders of up to 1,000 pounds, Foam Factory shreds all of their standard, non-bonded open-cell foams and combines them into one filler product for a resilient but comfortable all-around feel. Only top-quality foam is used as shredded foam filler; a combination of the trimmings from other top-quality end-products, too small to be cut into another product, and full, unused sheets. The foam used is not defective, damaged, or a factory second product. It also does not contain the hard skin or crust present on the outside of bulk foam forms. Bags of foam are perfect for DIY pillow projects and allow an individual to make their own pillow replacement, re-stuff an old pillow that has lost its resiliency or add extra stuffing to a pillow that needs just a little more cushion. Again, memory foam is also available, this time in shredded foam. For people who desire the body heat-activated contouring of memory foam but may find its solid form too firm, shredded memory foam provides the same performance characteristics in a more cushioning, pliable form.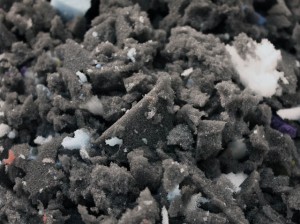 Another pillow filling option with multiple uses is polyester fiberfill, also known as Dacron. Frequently used to wrap seating and couch cushions for an extra layer of comfort and a fully stuffed appearance, shredded fiberfill provides a very soft filling product for pillows of any sort. With its synthetic fibers, fiberfill is anti-microbial and will not rot, mold or grow mildew and is also able to be placed in the washing machine, provided it has an appropriate covering fabric. It is also very flexible and compactible, making it a fantastic material for use in body pillows that are squeezed, bent and twisted. Dacron is extremely light and fluffy and is also the most cost-efficient way for filling decorative pillows to their fullest. Foam Factory offers shredded fiberfill in 15 by 15 by 72 inch bags weighing approximately 5 pounds for stuffing any pillow as fully or as a lightly as desired. For larger or more detailed projects, multiple sizes of fiberfill in sheet form are also offered.
Lastly, comfort needn't be confined to within the home, as evidenced by the deck and patio furniture we enjoy during the warmer months of the year. To compliment oversized reclining patio furniture or chaise longues with luxurious pillows, Foam Factory stocks filter foam and Dryfast foam for outdoor use. Able to be cut in solid forms or shredded, these materials feature an incredibly porous structure that will allow water to drain and dry by the flow of air. When wrapped in appropriate covering materials, these foam products can be used outside without rotting, falling apart or allowing the growth of mold or bacteria, something that would be likely if a traditional foam material were to get wet.
Whether it's in the living room, on your bed or on the back porch, there's no reason you should be uncomfortable in your home. With custom foam pillow stuffing from Foam Factory, you'll be able to have the comfort you desire, no matter where you are.