Just like snowflakes, there are no two people who are alike. Brothers, sisters, and even twins, no matter how similar, have their own individual traits and quirks that make them their own unique person. Despite this, most things produced attempt to cater to the widest range of preferences and trends. So while many may be pleased with these offerings, there are still plenty of people left wondering why they can't find something they like. Furniture is no different. Classic couches, recliners and other furniture satisfy a majority of comfort desires, but that still leaves a handful of people who are looking for something different.
With more than three decades of experience in the bedding and comfort industry, Foam Factory, Inc. is well aware that no two customers have the same list of desires, and that a mass-produced, cookie-cutter product isn't always what somebody needs. For this reason, in addition to their couch cushion fabrication services and the cushy and soft Foam Sacks line, Foam Factory also offers custom floor cushions for people who have their own set of rules when it comes to comfort and home furnishings.
Much less conventional than the traditional couch or loveseat, and not as recognized as beanbag or Foam Sack seats, floor cushions are versatile, hybrid pieces of furniture that can be used in a multitude of ways. With the ability to make them from a wide spectrum of materials, floor cushions offer the support of a couch cushion with the size and fun of a beanbag seat. More like a big pillow or oversized couch cushion than anything else, these are typically filled with solid sections of foam, or packed into thinner, flatter covers than a Foam Sack would be. A large floor cushion can offer comfort few pieces of furniture can match, providing a great place for the user to sit, recline, relax and do anything they want. These forms offer the freedom not present in frame-furniture but provide more support than a beanbag chair for people whose comfort preferences fall between the two.
Foam Factory proudly offers complete customization on many of their products, and floor cushions are no different. Any of the foam types available for their traditional cushions, Foam Factory makes available for their floor cushions, with extremely cushioning super soft foam, balanced HD36, and supportive and firm Lux representing just some of the options. Dimensions aren't restricted either, as both traditional and custom sizes and shapes can be created with their fleet of precision machinery and computer-programming capabilities. Cushions can be cut to size up to 4 by 4 feet, as thick as 18 inches, and shapes like stars and circles can be made as well. Of course, standard square and rectangular cushions are still a breeze to make, and can either include crisp, clean edges or softer-looking rounded edges. Polyester fiberfill can be applied to the floor cushions too, giving them a full, overstuffed appearance and providing a little extra cushion on top of the foam.
In addition to the materials that make up the actual cushion, Foam Factory offers many other options to create a one-of-a-kind cushion just for you. Besides the wealth of choices in regard to the cushion's foam filling, there are thousands of materials and patterns available through Foam Factory's fabric books. If you already have a material in mind or on hand, Foam Factory will gladly use the provided materials and will let you know exactly how much is needed to cover the floor cushion. For thicker cushions, welting is offered as another option, either top and bottom, or centered around the outside edge in a single band. Pinched seams and tassels can even be added to provide a look that best fits your home. Buttons can also be added for a traditional tufted appearance as well. After material and styling has been selected, more options are available, as to whether it will be permanently sewn shut or have a zipper for removal and easier cleaning. There are countless ways to customize a Foam Factory floor pillow to your exact preferences.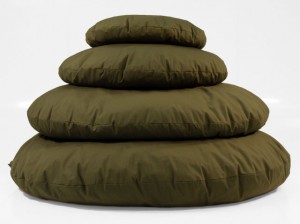 Because floor pillows are non-traditional furnishings compared to the living room and den sets most people are accustomed to, some may wonder how they fit into the scheme of a living space. Instead of being the white elephant in the room, large floor pillows are actually one of the most versatile furnishings you can add to your home. When stacked, firm cushions can create a luxurious, oversized cushion that won't take up the space of a chair or couch. Depending on the covering materials, when stacked or leaned against a wall while not being used, cushions can add ambiance to a room as decor too. Children love the durability and softness of these pads in their play rooms or for relaxing in front of the TV. Additionally, they excel as dorm furniture where space is at a premium and can be used as seats for studying, relaxing or as a place for guests to sleep. By being frame-free, these can be stored if they're only used for extra seating or can be elegantly designed to be the focal point of a whole room. Floor cushion pillows are also popular in relaxation, meditation and creativity rooms, where the comfort and lack of boundaries helps people's minds relax or solve problems. In short, there are no right or wrong ways to use a floor cushion, and whatever feels right to you is the right way to use them.
So, if you've never been able to get the level of comfort you want out of traditional furniture, floor cushions may be perfect for you. With the help of Foam Factory, you can create something that fits your life perfectly and soon you'll be enjoying your home in a way you never have before.