With the fast-paced lives we all lead these days, quality time with family and friends has become harder to come by every day. And after managing to balance work and other social obligations, finding alone time to relax is even more difficult. However, with Foam Factory, Inc.'s introduction of their new Foam Sack contemporary furniture line, there has never been a more comfortable or fun way to unwind.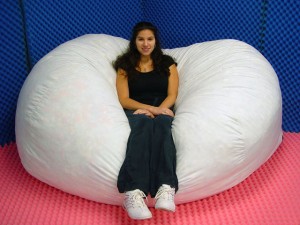 Stuffed with resilient, high-grade shredded foam, Foam Sacks are a long-lasting and creative way to add customizable comfort to your life, no matter your situation. Available in a range of sizes from 3 feet in diameter to 8 feet long, Foam Sacks are great for one person or an entire family. The shredded foam supports the body with pressure-free firmness, allowing you to keep your most comfortable position while still cradling your body, whether you want to sit upright, reclined or in any position between.
Foam Factory only uses top-quality materials to manufacture their Foam Sacks. Filled with a blend of brand-new conventional foam, they are cut from the same bulk material that other products like cushions, pillows and support products are made of. Each Foam Sack is handmade in the USA at Foam Factory's facility with materials they manufacture, so every product is a reflection of the quality and standards they proudly stand behind.
With 12 different colors available in 100 percent micro-fiber suede, selecting a Foam Sack to match your décor and preferences is effortless. Or, you can even restyle an area, using your new Foam Sack as the centerpiece. Available in six different sizes, Foam Sacks can be easily adapted to any space, whether you want to fill a large area or are just looking to tie together a room with a smaller piece. They can seat just one person as a living room chair or as many as four adults or six children depending on the sack's size, making them a potential couch replacement as well.
The uses for Foam Sacks are innumerable, as they can blend seamlessly into any application or lifestyle. For people with limited space like students in dorm rooms or people in studio apartments, Foam Sacks are easily moved for comfortable seating and can fit into any area like bean bag chairs, with their non-rigid form. They are also practical for people who relocate frequently for work or are getting their first place because they are easily compacted, saving precious space when moving. There isn't the worry of breaking or damage in transport either, which is present with traditional furniture. The wide range of sizes makes Foam Sacks a smart choice for living room furniture, apartment furniture or home theater furniture, providing comfortable, cozy seating for the whole family.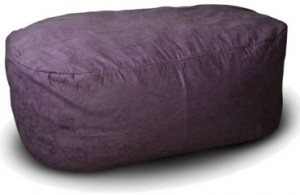 Foam Sacks have also been used by businesses in brainstorming rooms, libraries and schools for reading areas and in therapy capacities because of their free-form construction. Durable and safe, the zippers on Foam Sacks are protected by welting and their construction contains no hard edges or sharp corners, making them excellent for children's playrooms. Foam Sacks can also be used as creative ottomans or footrests.
Priced very competitively with practical options for any budget, combined with the quality put into each sack's manufacturing and materials, Foam Sacks are an outstanding value. Additionally, each Foam Sack comes with a 3-Year Warranty in the unlikely event the fabric, seams, zippers or foam fail. These are very resilient products however, especially when compared to traditional bean bag chairs. Those feature polystyrene pellets that can be compressed beyond their rebounding point, causing the bags to lose their fullness permanently. They will then require replacement or more pellets for refilling, which is a messy process and an additional expense. Foam Sacks compress and regain their shape easily and if one is used in an identical position for extended periods, an occasional fluffing will get the foam filler to respond back to its original fullness.
So at the end of the day when you finally get to kick back and relax, whether with family and friends or by yourself, there's no better way to let the stress of the day melt away than in a Foam Factory Foam Sack.