To some, body pillows are something wanted but not needed. But as the mounting evidence showing the importance of sleep and its impact on our daily lives increases, people have begun to realize body pillows can serve an important role in achieving a good night's sleep; something that is definitely a necessity. Fortunately for your shot at a refreshing sleep, Foam Factory, Inc. has the materials and resources to create custom body pillows that will help you get your best night's sleep.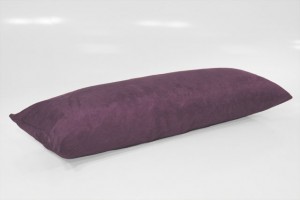 Foam body pillows are intended to provide the support of multiple pillows in a single form that stays with you throughout the night. Side sleepers especially benefit from body pillows because they help reduce the stress and pressure placed on the shoulders, back, hips and knees as the body tilts forward at an unsupported angle.
Individuals who don't experience aches or discomfort can enjoy body pillows as well, as their over-sized cushioning is simply a comfy way to sleep. Additionally, body pillows are often suggested by physicians to pregnant women to help them with balance and support while sleeping.
While sleeping on their sides, many people's top knee and hip sags, stressing their joints and back. A body pillows between the legs and knees helps keep the legs straighter, rather than the top one falling down onto the bottom. That better body support makes for a more natural position, reducing pressure points and helping circulation. Some people attempt to simulate this effect with standard pillows, but they can be underfilled or fall away during sleep. Body pillows however, are resilient cushions that can support and align problem areas of the body all at once, with size that helps them stay where they're put.
Foam Factory's body pillows carry many customization options, with choices for size, foam filling, and covering fabric. Beginning with their two fully-stuffed standard sizes, 22″ x 60″ and 16″ x 60″, these are excellent forms for people who have never tried a body pillow before. For those looking for a long pillow tailored to their individual needs, Foam Factory also has the capability to produce custom sizes, be they wider, shorter, longer, or thinner.
Along with custom sizing, Foam Factory offers options for pillow stuffing to create the perfect feel in your pillow. Conventional shredded foam provides resilient, body-forming support that will return to size night after night. Shredded memory foam pillows provide luxurious, temperature-sensitive support that hugs the contours of your body as you shift in your sleep. Along with the foam filling, shredded polyester fiberfill is also an option for creating a super-soft feel in a body cushion. Fiberfill is perfect for those desiring extra comfort with less need for body support. A unique benefit of the fiberfill body pillow is that the entire product is able to be laundered, as opposed to only the covers with foam-filled pillows.
Those covers are what provide an additional dimension of customization for Foam Factory's body pillows. With options ranging from color and material type, to whether they are removable or not, once you've selected a pillow that feels perfect, Foam Factory makes it just as easy to ensure that it looks perfect as well.
In eight vibrant colors, a cozy, 100 percent cotton twill cover can either feature a zipper for easy removal, or be sewn completely shut. Made in 12 colors, the 100 percent micro-fiber suede covers have the same zipper or closed hem options in a luxurious, attractive fabric. To prevent accidentally being scratched or poked by the zippers, they are encased in welting for both cover varieties. For those who desire a removable cover, even more customization options are available. A black, fully sewn twill liner can be added to contain the pillow filling for easily washing the outer cover, or it can open directly to the interior filling contents if you anticipate adding or removing filling in the future.
Whether thinking about purchasing a body pillow to help get through a pregnancy, reduce aches and pains from sleep, or simply because you find it the most comfortable way to sleep, let Foam Factory help you create the pillow that's best for you and your lifestyle.