These days, Foam Factory, Inc. is known as a supplier of open-cell and closed-cell foam materials and products for both commercial and residential customers. But when they opened their first store more than 30 years ago, their original focus was upholstery, from chairs and headboards, to couches and cornices. Those upholstery roots are still part of Foam Factory's business, and with the upholstery supplies they currently offer, they've made it the business of many other companies and DIY fans as well.
With a product line that contains multiple varieties of cushion foam, access to thousands of fabric patterns, and fiberfill cushion wrap, Foam Factory is a great resource for DIY furniture repair projects, as well as small businesses who need an affordable source for materials.
The most important traits of any piece of furniture you intend to use every day are comfort and durability; qualities directly provided by cushioning foam. Using a poor cushioning material in an upholstery project can make a seat or chair look great but feel uncomfortable, which defeats the entire purpose of replacing the original materials. Selecting the proper upholstery foam for your seat will give it comfort and longevity you will appreciate.
For most seat cushions, the HD36 and Lux family of foam are the right products for the job. Both are made in a regular formulation, as well as a high quality version that features additional density for greater longevity. HD36 is a medium-feel foam for people who want a more cushioning feel to their seat, and Lux offers extra firmness for individuals who appreciate a more supportive cushion. While they offer different degrees of firmness, quality cushions will make an immediate difference in any project. All four foam types – HD36 Regular, Lux Regular, HD36 High Quality, and Lux High Quality – are available in standard thicknesses up to 8", so you'll have no problem meeting even the thickest cushion requirements.
Foam Factory stocks other foam materials that are useful in upholstery projects in addition to the Lux and HD36 types. For back and arm padding, Super Soft and Poly Foam are the perfect options to provide the right degree of economy and function for parts that don't have the same demands as the seating surface.
The seatback and armrest areas of chairs and couches are primarily there as comfort additions, since arm-less and back-less seating options are perfectly functional, as seen in stools. This means they don't have to handle the same amount of use and abuse as a seating surface that bears a user's entire weight. For these less-demanding uses, Super Soft and Poly Foam offer softer materials that cushion and soften. True to its name, Super Soft foam is the most cushioning material Foam Factory offers, with a low ILD value of 12, a measure of firmness. With lower density than Lux and HD36 foams, these two varieties are more affordable as well, which is beneficial given that the demands placed on back and arm foam are also less.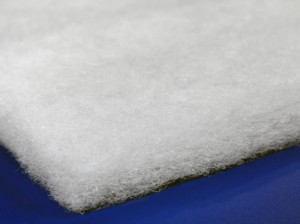 For keeping up appearances and making upholstery projects even MORE comfortable, polyester fiberfill (Dacron) is yet another supply Foam Factory offers. Fiberfill is great for adding a fluffy, luxurious look under any upholstery project. Being compressible, poly fiberfill keeps cushions looking full, but doesn't detract from support. Instead, it offers yet another cushioning layer, great for plush couches and dining room chair pads. Foam Factory sells their fiberfill in 30", 60", and 88" widths, and in lengths by the lineal foot or 60' or 120' rolls. Spray adhesive is also available for foam projects.
All of these supplies are able to be purchased in small qualities or in bulk, no matter if you're a residential customer with a single project, or a business after a quality material supplier. On volume orders, Foam Factory even offers price breaks, which also apply to residential and commercial customers. And if it's fabric you're after, stopping by their brick-and-mortar Clinton Township, Michigan store gives you the chance to peruse tens of thousands of material options, like suede, velvet, vinyl, and more.
If you're trying to make an old piece of furniture look and feel new again, Foam Factory should be your first and last stop for upholstery materials.