Foam Factory, Inc. has offered quality latex foam bedding products since 1995, giving customers a wide selection of materials and styles to choose from. Using the Dunlop process of latex foam production, Foam Factory's latex foam contains only 100 percent natural ingredients, with no synthetics included in the formula. This helps make their latex mattresses and latex toppers hypoallergenic, anti-microbial and resistant to mold, mildew and dust mites.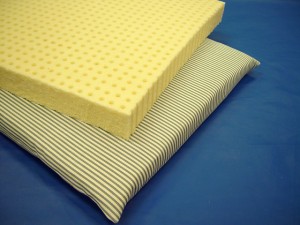 Latex foam bedding products have also become known for their excellent support and pressure relief characteristics. It is a material soft enough to contour to the curvature of the sleeping body, but provides resiliency that "springs" in support of areas generating less pressure. This resiliency also means there is no delay in recovery time for the product as the user moves from one position from another, providing constant support through the night.
One of the most popular trends in latex foam bedding is the "comfort layer" method, where thin latex sheets of varying firmness are layered upon one another for a custom feel, as opposed to one solid piece. Companies such as Sleep EZ and FloBed trumpet the benefits this degree of personalization offers. But while adding top comfort layers can increase cushion, latex foam's firmness and resiliency means changes in material deeper than 5 inches from the body are negligible. The product consistency of latex foam also means that thinner, layered sections do not produce any extra benefits over solid sections.
Sleep EZ sells mattresses with three and four different sections of 2.8 inch latex, with each able to be customized to one of their four firmness values. Personalization is a great feature for customers, but in the case of latex foam, these options don't provide much practical utility. A customer could create all sorts of different feel combinations, but with the range of comfort generally within 3 inches of the user and full support within 5 or 6 inches, the only real service this provides is the option to add a soft layer on top of firm support. The ability to create a mattress with three soft bottom layers and a firm top layer exists, but in reality, there would be no benefit to such a configuration. Additionally, should a customer want identical firmness values throughout the product, a material that could have remained solid will go through unnecessary cutting to yield identical sheets, increasing production costs. FloBeds have a similar layered setup, with an additional convoluted eggcrate layer as an option. These provide excellent cushioning and comfort, but the very bottom layer of latex foam, after being covered by an additional 7, 8 or 9 inches of foam, is simply functioning as extra product height. Obviously, there are much more cost-effective ways to increase a mattress' height besides increasing its performance material.
Foam Factory offers a solid, 6 inch all-natural mattress in both medium and firm feels to suit any sleeper. However, they also have multiple options for adding additional personalized comfort. If differing layers are desired, latex foam toppers in 1, 2 and 3 inch heights in soft or medium firmness are available to provide a comfort layer atop solid support. By using a solid base under a topper, Foam Factory saves customers unnecessary cutting costs. Some companies offer comfort zoning, but the way they are created can actually negate their benefit for some. FloBeds cuts latex strips horizontally and attaches each section with Velcro, which can potentially, over time, allow seams to exhibit weakness under pressure or come apart. Some companies glue horizontal sections together to create their zones, generating complaints that the adhered seams are harder than the rest of the mattress.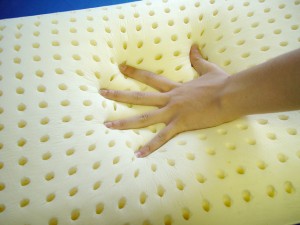 With the extra measures taken to produce an eco-friendly mattress, costs are often higher for latex than many conventional bed types, an accepted part of dealing with premium materials. Despite this, Foam Factory's price points are substantially lower than competitors while still using the highest quality 100 percent, all-natural Dunlop latex. A queen-size, 6 inch, organic mattress with medium firmness is priced at only $571.99. Compare that to the 7 inch Sleep EZ queen-size bed at $1,195 or a 100 percent natural latex Foam Sweet Foam queen-size mattress, consisting of two 3 inch layers of medium density latex, priced at $1,479. For dual sleeping layers, a firm, 6 inch, queen-size Foam Factory mattress at $581.99 plus a 2 inch soft mattress topper at $179.99 makes for a custom 8 inch mattress setup at $761.98. The comparable 8.5 inch Sleep EZ mattress costs $1,395 while a 7 inch, all-Dunlop, dual-layered, queen-size Savvy Rest mattress is more than $3,000, including organic quilted casing.
When it comes time to select a new mattress, latex foam is a long-lasting, resilient, supportive and comfortable natural mattress product that more and more people switch to every year. But it is important to not get swept up in the product's fanfare and at Foam Factory, you can get the quality you need at the right price.