One of the most memorable products of the late 60s and 70s, the bean bag chair is an icon of comfort and design. It has come a long way since then, and today, bean bag chairs are making a comeback with a wide range of choices in covering fabrics, size, shape, and filler material.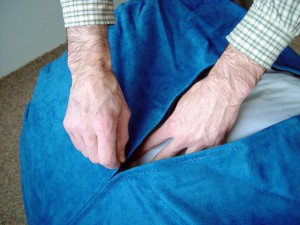 While the original polystyrene pellet foam filling still exists, more and more manufacturers are using shredded polyurethane foam for filler instead. This shift in materials provides more fullness, softness, resiliency, and durability while keeping the same idea of a cushioning, comfortable, free-form piece of furniture that conforms to the body. This positions Foam Factory, Inc. to be a premier provider of these unique products, and with their 30-plus years of experience and diverse fleet of machinery, Foam Factory offers customization options you would be hard pressed to find anywhere else.
With a standard selection of foam sack bean bag chairs that spans six sizes, 12 colors of 100 percent micro-suede, and an option for a stuffed, liner-only form, Foam Factory offers more than 70 potential options before even delving into individualized customization options. With a shredded blend of conventional foams providing an all-around, medium-feel for new products or bean bag refill for adding to existing bags, Foam Sacks are supportive enough to keep you from bottoming out, while staying comfortable enough to mold and move with you. Beyond these standard customization options, Foam Factory offers additional methods for customizing your soft furniture to be exactly the way you want it.
One of the biggest weaknesses of bean bag chairs is a direct result of its greatest benefit. Because the chairs mold, compress and form to the user without any rigidity, television remotes, cell phones, headphones, and plenty of other things can get lost or roll under the user. Foam Factory solves this issue by offering custom pockets sewn into the chair, so you'll always know exactly where your belongings are, even in giant bean bag chairs. Pockets can be made large or small and loose or tight based upon your needs and can even have a zipper for added storage security. With pockets, when you're kicking back channel surfing or get a text message, you'll know exactly where your remote or phone is, instead of having to get up and rummage through your seat.
Getting a bean bag to look the way you want is another important consideration that may not be covered by a company's standard fabric line, no matter how varied. We've all encountered situations where we had one thing in mind and nothing else could be substituted. Perhaps this may be the case in your search for the perfect bean bag. Fortunately, Foam Factory offers thousands of potential cover options from their upholstery fabric books that can be ordered and stuffed full of luxurious shredded foam filling. These upholstery fabrics are durable enough to handle the rough and tumble life of a piece of furniture while staying attractive. Taking customization even further, Foam Factory also offers the option for customers to bring their own material to be made into the cover. If you find a material in a store and need to have it, or if you have leftover material from a project and want to use it, Foam Factory will gladly turn it into a comfy bean bag chair.
The material customization doesn't stop there. Because each foam sack cover is made of five sections of fabric sewn together, multiple colors and materials can be used to personalize your sack. Perhaps you have a man-cave dedicated to your alma mater or favorite sports team. You can fill the room with foam furniture made up of your team's colors, whether they're green and white, black and purple, or any other spirited combination. Maybe you've built a play room for your children and want to fill it with bright, stimulating colors. A vibrant red, blue, and yellow foam chair would be an inviting centerpiece. You could already have a fully furnished den but are looking for a versatile form for a cushy ottoman/extra seating hybrid. A 3 foot round bean bag with burgundy sides and a black, hard-to-soil surface for the top would be a functional, tasteful addition. This option for multiple colors, when coupled with the nearly limitless options for fabrics, means Foam Factory can create virtually any look you can imagine.
If the traditional round bean bag isn't what you're after, nor are the potato-like shapes of the more gargantuan, 8 foot bean bags, you can request a custom shape. Shapes that tuck snugly into the corner of a room, tapered shapes or traditional shapes made in non-standard sizes can all be created. If you have an idea, send an e-mail or pick up the phone and Foam Factory can help you make that dream a reality. Even the filler can be customized, with the option to swap out the standard shredded foam for shredded, temperature-sensitive memory foam.
Your home is your castle, and there isn't any reason you shouldn't be completely comfortable, both physically and aesthetically. To strike that perfect combination with foam for furniture, utilize the customization Foam Factory offers for their Foam Sacks line and you will be glad you did.