Many projects in life require "the right tool for the job." Whether it's as basic as a hammer to drive a nail or as intricate as mechanical testing components in a mobile workstation, keeping tools secure and organized is vital to getting projects completed as quickly and efficiently as possible. With Foam Factory, Inc.'s custom foam tool casing, form-fit inserts can be made for your carry-along toolbox, the cases for precision instruments or the drawers and shelves of your company's tool storage, keeping things safe and where they belong.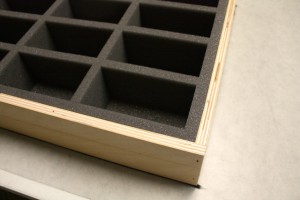 Even the most organized individuals encounter projects where time is of the essence or they are simply so focused that keeping their tool set orderly is of secondary importance. Tools get tossed into a box or drawer, another is grabbed and soon enough, a formerly pristine tool collection is a cluttered mess. With the addition of their custom foam inserts, Foam Factory makes staying organized easier than ever, even in the midst of a job.
Constructed of closed-cell polyethylene or cross-linked polyethylene (XLPE) foam, these inserts can be made in varying thicknesses and dimensions to accommodate any kind of tooling, from a set of drill bits to power saws and blades that need to be brought to the worksite. Polyethylene and XLPE's resiliency and shock absorbing qualities make these shatterproof, lightweight foams the most useful casing materials for tool packaging. At Foam Factory, they know people work in all kinds of conditions, where cleaning or drying tools immediately after use may not always be possible. For this reason, they use foam materials that make inserts practical as well as functional, with polyethylene and XLPE's resistance to mildew, mold, rot and bacteria giving your casing the durability and longevity that open-cell foam types can't provide.
The organizational benefits of custom cases are unparalleled, with a unique spot for every piece. The layout of different sized tools of the same type helps in finding the right piece for the job and even makes guesswork situations simpler. Being able to see your full range of tools in comparison to each other makes judgment decisions easier when a specific size is unknown. Workshop organization also makes for a more efficient and safer shop. Another invaluable feature of organized custom casing is that it helps ensure you never lose or leave another tool behind again. Using a two-toned color scheme between the base layer and form-fit layer, missing tools are made obvious by the contrast of bright base colors against a dark top layer. Polyethylene is available in black, white, blue and anti-static pink, with cross-linked polyethylene available in black, white, red, blue, green, yellow and purple for creating a fully personalized case. With contrasting, two-toned foam layers, if a tool is missing, it will be noticed.
In addition to the organizational benefits of foam tooling inserts, the tool protection benefits can greatly extend the life of your collection by guarding them from wear, tear and accidental damage. In a carry-along toolbox without foam inserts, contents are constantly shaken, jostled and rattled against each other. This can lead to issues as minor as aesthetic scratches or as serious as breaking delicate drill bits or gouging screwdriver tips. The same things can happen in full-sized stationary toolboxes, with contents shifting and sliding every time a drawer is opened and closed. Besides the obvious drawback of spending money to replace damaged tools, the inconvenience of going to get a tool for a job and discovering it is damaged or broken when you need it is something everyone wants to avoid. This ceases to be an issue with custom foam casing inserts.
Security is especially vital for specialized tools that cost thousands of dollars and feature many intricate, delicate parts. Transporting saws, drills, delicate electronics or even repair components for much larger machinery is made much safer by utilizing custom foam tool packaging. In addition to the form-fit cutouts for these cases, Foam Factory produces custom lid liners to keep everything in place through a full 360 degrees of movement, from open-cell eggcrate foam to matching closed-cell foam.
Foam Factory's experience in custom tool packaging ranges from sets as basic as home tool collections to delicate drills, augers, compressors and testing instruments. Multiple layers can be created to store precision instruments efficiently, optimizing storage space. Sheets can be cut as thin as ¼ of an inch, keeping the smallest pieces easily accessible. For larger items, sheets can be laminated as thick as desired to create casing for the deepest products. Using a computer programmed, abrasive-free waterjet cutter, individual projects can be tailored to exact specifications, cost-effectively. With a stream of water only .005 inches in diameter, pressurized at 60,000 psi, shapes and contours can be cut to fit any tool or instrument perfectly, without the need for creating forming molds. Even finger slots for easily grabbing smaller pieces can be cut into the insert's design. For larger projects, Foam Factory also has the ability to make multiple, identical forms quickly and easily with a die cutter. An example of this capability would be creating numerous work stations or tool storage cabinets for an automotive or repair company. Top-layer fabric adhesion is also available for people who want to customize their casing's aesthetics further.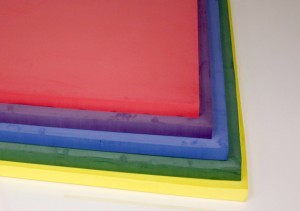 For an even more cost-effective option, Foam Factory offers uncut packaging foam for creating your own do-it-yourself cases at home. Simply trim the sheets to size, place your tools on the top layer in any style you desire, trace them and cut along your markings. Foam Factory recommends using darker top layers and bright base layers for visible contrast and tracing with a soft-tipped marker to make visible lines without puncturing the sheet. For cutting, a sharp utility blade without serrated edges is recommended for the best cutting control while avoiding frayed edges. For tighter fits, cut on the inside of the tracings and for looser fits, cut further out. After cutting, simply flip the sheet over, hiding the tracings and adhere it to the base layer. When creating custom inserts at home, take full safety precautions, including, but not limited to safety glasses, work gloves and a proper cutting surface.
Regardless of how you use your tools, whether once or twice a year for fixing a leaky faucet at home, or 10 hours day for your job, keeping them organized and protected is important for everyone. Form-fit foam cut outs are an excellent way to accomplish that and Foam Factory's materials, capabilities and affordability make keeping your tools in top shape a snap.