For many people, a sofa is the center of activity in the home. Whether watching TV, movies, reading, relaxing or entertaining, the couches in a home are a place we gather and unwind. Considering the time spent on them and the importance of decompressing after a hard day's work, the comfort of a sofa is incredibly important. But over time, even the best cushion can lose support. With the cost of new furniture, the hassle of getting it in and out of the house and the impact a replacement can have on a home's styling, many people simply tolerate and endure sofas and cushions that are no longer what they used to be. With Foam Factory, Inc.'s replacement sofa cushions, this does not need to be the case. Any removable section of cushioning can be replaced with brand-new foam, no matter the size or shape.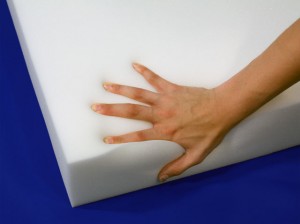 Featuring a selection of materials from the softest foam for pure comfort to the firmest foam for total support and everything in between, Foam Factory has the capability and products to tailor cushion foam to your exact preferences. This approach to customization means they will use literally any material in their inventory to give you the comfort you desire, even if it is not traditionally used as replacement foam for couch cushions. Want the ultra-firm support of automobile-grade foam? Desire the consistency of closed-cell foam? Have your own material you want to use? If it's what you want, Foam Factory will make it. Of course, traditional soft, medium and firm foam for couch cushions in regular and high quality are also available to be made into brand-new cushions for revitalizing your living space.
The approach to complete personalization doesn't stop at picking a material either. In fact, Foam Factory will layer multiple materials in a custom cushion to create a hybrid product for even more refined comfort. Want a supportive cushion with a super soft feel? Foam Factory can combine materials to make this happen. Fiberfill wrap is another cushioning option, for adding visual fullness to the cushion as well as a padding layer that doesn't detract from the support of the foam it is wrapped around.
With more than 30 years of experience in the foam industry, Foam Factory knows that every sofa and cushion is unique in size and feel. With their fleet of machinery optimizing both computer-controlled precision and hand-controlled customization, any shape or design can be created to re-stuff couch cushions. This includes rounded cushions, an L-cushion or T-cushion, tapered cushions and one-of-a-kind bay window cushions. Cushions can also be beveled for a smooth, seamless appearance.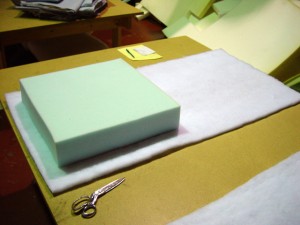 Sometimes, the sofa's wear is also apparent on the cushion covers. For situations where cushions aren't being made just to be stuffed back into their old casing, Foam Factory also manufactures custom covers. With twill, suede and vinyl materials, they offer a selection of fabrics that will look and feel great on your couch. Should you have extra fabric from the original covers or want to supply your own material, Foam Factory will create covers from these as well, something some companies will not do. Cushion covers can feature zippers, be sewn completely shut or left open like a slip cover and include piping or welting cord along edges in a range of sizes to fit right in with its surroundings.
The seating cushions on couches aren't the only part of a sofa that gets used either, and that is why Foam Factory also produces custom sofa backs. Typically made of softer materials because they don't have to support full body weight, a sofa back that doesn't offer the right amount of comfort and support can diminish even the most comfortable seat. Customization options for sofa backs are the same as sofa cushions. Foam Factory will even manufacture any of the cushions for convertible sofas.
Regardless of why you need sofa cushion replacement, be it attempting to extend the life of a favorite piece of furniture or modifying a new sofa that matches your home but not your comfort preferences, Foam Factory can provide the custom couch cushions to make your sofa perfect for you.